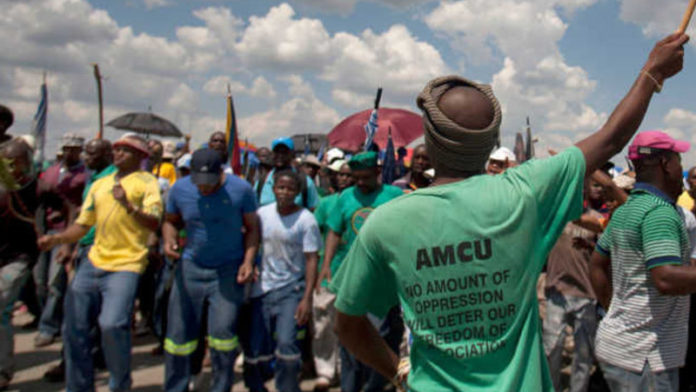 ANGLO American Platinum (Amplats) and Sibanye-Stillwater were likely to call in mediators after the Association of Mineworkers & Construction Union (AMCU) declared a dispute regarding wage negotiations, said Bloomberg News.
"AMCU declared a dispute, which is normal during wage negotiations," Amplats spokeswoman, Jana Marais, told Bloomberg News. "The matter is being dealt with through internal dispute resolution mechanisms," she said.
Amplats CEO, Chris Griffith, has said in the past that the company would most likely pay above inflation wage increases, but in more recent comments he toughened his view saying that paying high wage increases on the back of better metal prices was short-sighted.
Sibanye was at greater risk of a strike owing to its fraught relations with AMCU and concerns that higher wages at Marikana mines may push up costs further, said Bloomberg citing RMB Morgan Stanley analysts.
"Sibanye's operations appear relatively highly exposed to potential labor disruption arising from the current wage negotiations, given their stance on the affordability of increases at Lonmin Marikana," the analysts said.
Sibanye-Stillwater said calling a dispute did not mean the deal was dead. "AMCU has declared a dispute, but we continue to engage with them and the other unions and hope to reach a mutual agreement that is fair but sustainable," said James Wellsted, spokesman for the platinum and gold producer.
Neal Froneman, CEO of Sibanye-Stillwater, said at the firm's interim results presentation last month that his company could withstand the effects of an AMCU strike for an extended period as it had developed comprehensive plans.
Amplats and Sibanye-Stillwater rebuffed AMCU's initial demands for a 48% wage increase, which would lead to job losses and mine closures, said Bloomberg News. In return, the union has also rejected counter-offers. Workers want more money as higher palladium and rhodium prices and a weaker rand bolster the industry's profit margins.
Impala Platinum, the third major platinum producer involved in wage talks with AMCU, and other unions, described the progress of discussions as positive. Lee-Ann Samuel, head of human resources for Implats said during the firm's full-year results presentation last week: "I am cautiously optimistic we will reach a conclusion by the end of September".
Implats moved into a net cash position for the year ended June 30 following operational improvements and a 22% increase in the rand basket price for platinum group metals (PGMs). Some free cash flow of R7.7bn was generated enabling it to pay R2.2bn in debt. The performance was typical of financial results from Sibanye-Stillwater and Amplats.
Christopher Nicholson, an analyst for RMB Morgan Stanley, estimated in a note earlier this year that of the five PGM stocks covered by the firm – including Implats, Amplats, Northam and Sibanye-Stillwater, a total free cash generation of some R33bn was expected over the next two years.
Amplats is expected to generate R12bn a year in free cash flow and dividend repayments of some R11.5bn over the next two years assuming the 40% earnings payout. Net cash is expected to grow to R17bn by December 2020, excluding a R6.1bn customer prepayment that may fall due in 2022.