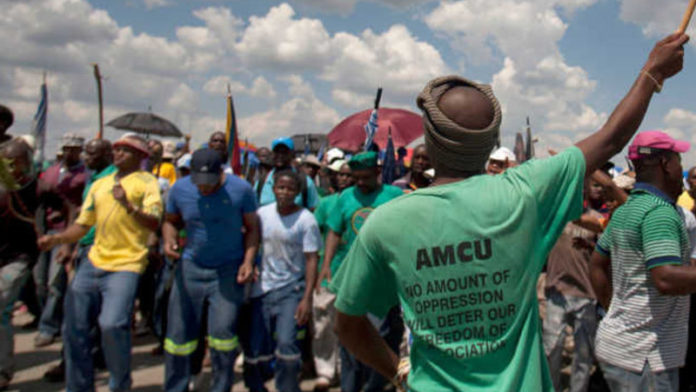 THE Association of Mineworkers & Construction Union (AMCU) has taken a dispute with Sibanye-Stillwater over a wage deal to the Commission of Conciliation, Mediation and Arbitration (CCMA).
This comes 20 days after AMCU declared a dispute in the wage negotiation process, a situation Sibanye-Stillwater said at the time was not a concern. The new wage deal would be for miners at the firm's Marikana (Lonmin) and Rustenburg shafts.
It said again today that taking the negotiations to the CCMA was "… another stage in the negotiation process", but the chances of AMCU taking members to a strike has increased. "The company continues to engage constructively with AMCU in an attempt to conclude a fair and sustainable wage agreement," said Sibanye-Stillwater.
The notice of referral of the dispute requires CCMA to appoint a commissioner who will assist the parties in an attempt to resolve the dispute within the required statutory period of 30 days, Sibanye-Stillwater said.
AMCU is also conducting negotiations, along with the National Union of Mineworkers (NUM), on behalf of respective members working at the operations of Impala Platinum (Implats) and Anglo American Platinum (Amplats).
Amplats and Sibanye-Stillwater rebuffed AMCU's initial demands for a 48% wage increase, which the companies said would lead to job losses and mine closures. In return, the union has rejected counter-offers. Workers want more money as higher palladium and rhodium prices and a weaker rand bolster the industry's profit margins.
Christopher Nicholson, an analyst for RMB Morgan Stanley, estimated in a note that Implats, Amplats, Northam and Sibanye-Stillwater would have total free cash generation of some R33bn over the next two years.
Amplats is expected to generate R12bn a year in free cash flow and dividend repayments of some R11.5bn over the next two years assuming the 40% earnings payout. Net cash is expected to grow to R17bn by December 2020, excluding a R6.1bn customer prepayment that may fall due in 2022.
For its part, AMCU is emboldened by the re-election earlier this month of its president, Joseph Mathunjwa, following an elective conference. The elective conference came after South Africa's labour registrar earlier this year said he intended to de-register AMCU for breaking rules on how unions operate.