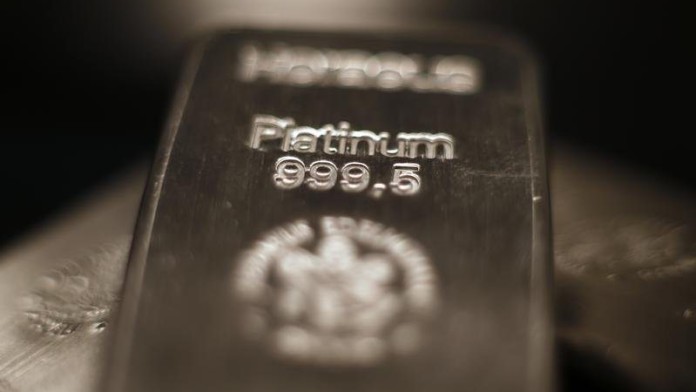 INVESTORS returned to platinum exchange traded funds in the first quarter, especially in South Africa as a preference grew for metal over management.
This is according to the World Platinum Investment Council (WPIC) which said in its first quarter update that net investment demand in 2023 was a major factor behind a forecast 983,000 ounce deficit for the metal.
Net platinum ETF holdings grew 43,000 oz in the quarter from a position of net divestment over the previous year-and-a-half. Bar and coin investment was also higher in the quarter: up 71% to 102,000 oz owing to a recovery in Japan.
But it was the behaviour of South African investors which was behind the ETF purchases. According to Ed Sterck, head of research at the WPIC, investors are concerned about South African supply which fell 14% in the first quarter or some 119,000 oz.
While he said previous producer forecasts of a 5% to 15% reduction in refined platinum production from South Africa was "a good measure to use", he also acknowledged that load curtailment, referred to generically as "loadsheding" in South Africa, was getting worse.
"The main thing is that South Africa is heading into peak demand and there's also the increase in copper theft. These will really begin to bite," he said in an interview on Friday. "The number of hours lost to loadshedding is three quarters of 2022 and loadshedding of Level 4 and above is already two times higher than last year.
"The trajectory for South Africa is not a happy one, unfortunately," he said.
Metal supply from Russia was also vulnerable, said Sterck. While the country has been able to land exports despite sanctioning from the West, Russia had less wriggle room in securing parts for a planned furnace refit at the government-owned NorNickel.
In addition to South African ETF purchasing, which Sterck said could be followed by North American buying where net divestment was still a feature in the first quarter, platinum was supported by improved demand in the automotive and industrial sectors.
Legislated increases in platinum in autocatalyst manufacturing was the main factor while there was also an element of catch-up in automotive sales in the gasoline sector following semi conductor shortages last year.
All in all, automotive demand rose 9% to 806,000 oz in the first quarter. On a full year basis, global automotive demand is expected to rise by 12% in 2023 to 3.26 million oz – an increase of 357,000 oz year-on-year, the WPIC said.
Industrial platinum demand grew 8% or some 43,000 oz in the first quarter, driven by growth in chemical demand, the council said.
Total platinum supply in 2023 is forecast to fall 1% below "the weak" 2022 level to 7.19 million oz. Set against this demand is expected to reach 8.18 million oz.