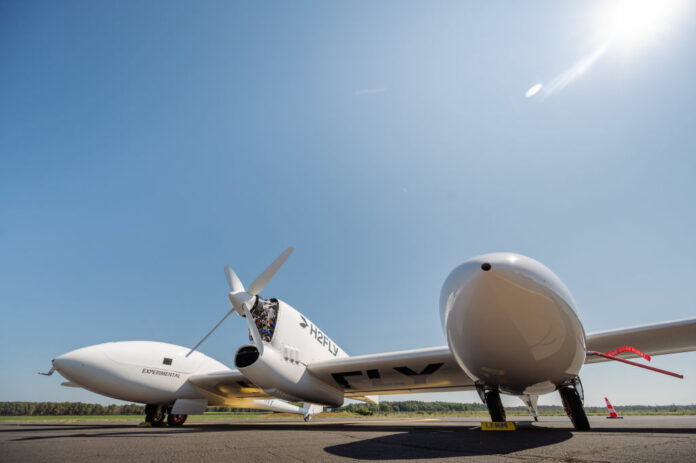 A HYDROGEN-powered aircraft completed three hours of flight testing earlier this month, boosting plans by manufacturers Airbus and Rolls-Royce to launch carbon-free aircraft of their own.
German company H2FLY ran the tests from Slovenia and plans to take the prototype further, possibly with a range of London to Rome, according to reports. Last year, Rolls-Royce's hydrogen-powered jet engine completed ground tests, while the Airbus model is planned from 2035.
The EU is attempting to lower carbon emissions from its aviation industry by 30%-40% by 2030, says Seten Naidoo, head of new commodities at Impala Platinum. "France is banning all short flights that can be taken by train within 1½ hours, so it's a very real situation that the aviation industry is dealing with," he says.
It's another example of how hydrogen technology can drive demand for platinum group metals (PGMs), especially for platinum, given its catalytic properties in fuel cells. Another PGM, iridium, has an application  too.
So how does hydrogen technology actually work? Hydrogen-powered fuel cells use a chemical process in which energy is created by splitting water into hydrogen and oxygen. To split the hydrogen atom, however, requires an electrolyser and energy itself. For green hydrogen to happen, this energy has to be renewable power.
Happily for South Africa, platinum is the best electrolyser material as it can cope better with the on/off load of renewable energy. The country's abundant sunshine and its wind also makes it a prime candidate for renewable energy production.
The technology produces electricity with no harmful waste. In fact, the only "waste" from a car fitted with a fuel cell is pure, drinkable water.
Hydrogen produced today is mostly created using fossil fuels, which is why it's called grey hydrogen. "Blue hydrogen" is created when fossil fuel pollution is contained through some carbon capture scheme. Green hydrogen is the goal, however.
The US government's Inflation Reduction Act is pushing hard for green hydrogen. It plans to pay $3/kg  for hydrogen if it is produced at less than 500g CO2/kg.   "We have a level of confidence [that] existing sources of hydrogen will gather traction. We're definitely seeing a ramp-up of heavy vehicle mobility and we're seeing storage," says Naidoo.
According to the Hydrogen Council — a group of about 150 companies across the hydrogen value chain — about 1Mt of green hydrogen are being produced annually, of which a third are created via proton exchange membrane electrolysers that use PGMs. The goal is 75Mt of hydrogen by 2030, so there's some way to go.
Jonathan Butler, head of business development for Mitsubishi Corp, says a huge increase of green hydrogen is required. "There is about 25-billion tons of green hydrogen in the works. We're on a good track."