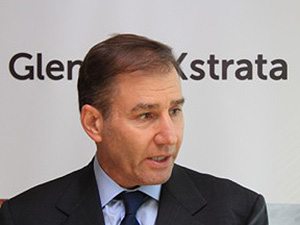 [miningmx.com] – GLENCOREXSTRATA's (Glencore's) Johannesburg listing may certainly help is African aspirations, but one doubts it is critical.
This is a company with 38 different operations in the continent before arriving in Johannesburg, (although partly achieved through a merger with Xstrata which was achieved after listing in London first). It's a company set up to succeed in any colour of the mining map.
In fact, it's worth remembering that Glencore is pretty new to all this public stuff having only joined the London and Hong Kong stock exchanges from May 2011. At heart, the company is still under-the-radar that, one suspects, may explain the relative sang-froid when its CEO, Ivan Glasenberg, was asked about political risk in South Africa.
One has to say relative because the mining sector's objections to impending regulatory change in South Africa has approached hysteria from time to time. In some cases, the choler has been warranted: the Marikana shootings and the labour protests weaken civil society which underpins the security of all investment in South Africa, not just mining.
Yet one couldn't help wonder at Glasenberg when he told media on November 13, with a tinge of exasperation, that investing in South Africa wasn't that bad, to which he might well have appended the qualifier: "if you'd seen some of the things I've seen'.
Glencore's DNA still seems informed by its historic links to Marc Rich & Co AG which is to say, a trading company: opportunistic, aggressive, contemptuous even of some investment mores.
No doubt this puts the company in places where others fear to tread such as the Congo where it partnered with Dan Gertler, an association in the copper/cobalt industry that attracted the criticism of Global Witness in May, 2012.
It certainly makes the company embrace change in a way that other mining companies might not. Change equals opportunity. If you have the network and the motive to anticipate change, that's even better; in fact, that sounds like an opportunity for a trading profit.
There are limits, of course. Glasenberg wants to see governments clearly set down "the rules of the game' and expects labour to abide by them too, just as Glencore has upped its transparency levels. In the absence of either of these things, Glasenberg and crew reserve the right to take their money where it will work best.
Finally, one can't under-estimate how management ownership makes Glencore different to other companies. So much of the stock is owned by management, in significant individual quantities as well. As one Johannesburg CEO told me: being the "hired help' is one thing, being a business owner is quite different.
Anyone who's owned a business, where the principle of eat what you kill applies, knows the difference.
Top40
Glencore will remain outside the Johannesburg Stock Exchange's Top40 Index until March, but I'm told the Swiss-headquartered group wouldn't have expected immediate inclusion anyway.
In order to qualify for index inclusion, and therefore attract the so-called 'tracker funds' that are obliged to include such stocks into their portfolios, Glencore would have had to build a 5% free-float from South African shareholders.
In absolute numbers, this would be equal to a turnover of 200 million Glencore shares which at the prevailing price would have been valued at $3.5bn. "This would be very significant trade in a single day," a market source says.
Glasenberg said that the genesis for a Johannesburg listing was in February when the company met with investors at the Mining Indaba conference in Cape Town. However, there had been no placements with investors or much pre-marketing. In fact, that process begins this week.
"As an inward listing listed after December 2011, Glencore Xstrata is treated as foreign for index purposes and its free float is thus determined from the size on the South African register," the JSE said in an announcement.
"Using data provided by Strate at close of business today, FTSE/JSE calculates a free float that does not meet the minimum requirement of 5% for index inclusion," it added. "Glencore Xstrata's index eligibility will next be tested at the March 2014 index review."
For the record, Glencore's first day in Johannesburg was a pretty active one anyway with some 52 million shares trading. This was higher than the 34 million traded in London on the same day, and above Glencore's 90-day London Stock Exchange volumes of 25 million shares.