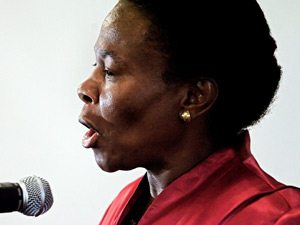 [miningmx.com] – PERHAPS we really can start believing the assurances by mines minister, Susan Shabangu, that there will be no repetition of the Marikana slaughter.
Shabangu gave this assurance in her openings address at the Mining Indaba in Cape Town earlier this month. In reply to questions at a news conference shortly after her speech, she was even more emphatic. "Could apartheid return to South Africa? No, definitely not. In the same way, there will never be another Marikana,' she said.
Who knows where she gets the self-confidence to say this. Perhaps in the same place where found the courage two years ago to state that nationalisation of mines by the ANC would take place only over her dead body.
In truth, nobody can give such an assurance, but after the framework agreement clinched in Pretoria in February to restore stability to the platinum mines – the second signing in five days, so that the changes required by the Association of Mining Construction Unions (Amcu) could be included – it's starting to look as Shabangu may have been right in Cape Town.
Efforts have been on the go since last year to get a stabilisation process for platinum mines under way through the Chamber of Mines, but since Amcu also walked out the negotiations little progress has been made.
Shabangu swiftly kicked some life into these efforts after the disruption at the Siphumelele mine belonging to Anglo American Platinum (Amplats) when angry workers tried to throw shop stewards of the now despised National Union of Mineworkers (NUM) out of a union office.
Security staff opened fire on the workers with rubber bullets. Eleven workers and three security guards were injured. Marikana II was in the offing.
The signing of the first agreement last week without Amcu was the result of Shabangu's haste, but fortunately she and the other signatories, including NUM president Senzeni Zokwana, realised this was a waste of time and paper.
On Monday morning everyone was back in Shabangu's offices to fix the hash up. And this time Amcu was there too.
The implication of the signing is clear: Amcu has at last been recognised as the biggest union in the platinum mines.
Shortly after the signing in Shabangu's office Amplats quietly signed a provisional recognition agreement with Amcu. Amcu represents slightly more than 40% of Amplats's workforce of 57,000.
Amplats requires a minimum representation of 40% at any particular mine and an average minimum representation of 30% throughout the group before it grants a union bargaining rights.
This is a clear winner-takes-all measure, and there is therefore no place for minority unions. If Amplats wants to be consistent, it will now have to kick NUM, the ANC's election partner, completely out. And that's only one of the lesser consequences of the emergence of Amcu.
Impala Platinum (Implats), which was the first to apply the winner-takes-all principle in its union recognition agreements, has already admitted this was a costly mistake.
Amcu will not enjoy the same protection at Implats as NUM did – not because Implats's management favours NUM, but because Implats has learned that lip service to workplace democracy is a very dangerous game. And a winner-takes-all model is not democratic.
In 2002, when Gwede Mantashe was NUM's general secretary, NUM decided to establish an ANC branch with every single NUM branch at every mine where it was represented. It's these structures that Mantashe carried right into the office of the ANC secretary-general.
This is also an ANC link to the rural areas in the Eastern Cape and KwaZulu-Natal, the home of thousands of miners in the gold, platinum and coal mines.
Shabangu's insistence on a peace agreement which included Amcu will therefore cost her political capital. Fortunately she was bright enough to realise that more instability and violence in platinum mines would make things even worse.
In the past year Amcu has grown from a small trade union with 20,000 to 30,000 members into one with at least 150,000 or maybe even 200,000 members, especially if growth in the gold mines is taken into account too.
The big question on the lips of every manager at every platinum and gold mine in the country is whether Amcu is able to serve these thousands of new members. If it fails, it could in two or three years time be adrift in the same battered little boat in which the NUM is now being dashed about on stormy waters.
NUM could recover, provided it is honest with itself, admits its mistakes and uses its considerable financial resources to rectify them.
To the amazement of all who know the union, including this writer, NUM has so far responded to Amcu's astonishing progress by fending off all the accusations against it in any possible way. However, soul searching is something it has not done yet.
For example, NUM recently held a "Transformation Indaba'. No, not to transform NUM, but to join the ANC in attacking mining companies because they are not applying the mining industry black economic empowerment charter rapidly enough.
Has there ever been a better example failing to see the beam in your own eye?