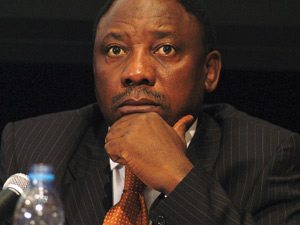 [miningmx.com] – IT was a beautiful autumn day in Rustenburg in the
Bushveld on Saturday- no wind, bright sunshine, but without the scorching heat that
sometimes assails one in this area.
Ideal for a Workers' Day rally. Cosatu even had the Olympia Stadium, a luxury sports
stadium built for the 2010 World Cup, to hold its rally in the platinum belt. It had also
arranged to have Cyril Ramaphosa, without doubt one of the country's most
competent, credible and popular politicians, as its main speaker.
There are about 160,000 people working in the platinum mines around Rustenburg,
and at least another 50,000 in several chrome mines. Until slightly more than a year
ago, they were all members of the National Union of Mineworkers (NUM).
There are many light industries and agricultural processing industries in the region in
which other Cosatu-affiliated unions are strongly represented, such as the National
Union of Metalworkers (Numsa) and the Food and Allied Workers Union (Fawu).
But when Workers' Day celebrations were officially meant to start at noon, there were
fewer than 1,500 people in the four upper blocks of the grandstand – and that's a
generous estimate. The actual figure was probably closer to 1,000.
Perhaps even more disturbing than the poor attendance is the fact that very few of
those who attended the rally were younger than 40 years old.
The reason, of course, is the overwhelming defeat suffered by NUM, Cosatu's largest
union, at the hands of the Association of Mining Construction Workers (Amcu).
Ramaphosa, who became deputy president of the ANC in Mangaung in December, is
clearly being schooled to fulfil the role of president. He is also head of the ANC's
election campaign for next year's general election.
But Rustenburg was probably the most difficult place in the country to address a
Workers' Day rally under the banner of Cosatu and the ANC this year. His main task
on Saturday was to sing the praises of NUM.
"NUM is the largest union in Cosatu and in the country. It was a united trade union – a
unit that enabled us to achieve what we have achieved. Those who have been misled
and left NUM will come back, because there is no other trade union like the National
Union of Mineworkers,' Ramaphosa said.
"NUM is a beleaguered trade union today, but the ANC will defend NUM. The SACP will
do so too, as will Cosatu, because if we don't, we will be next on their list.
"We must take an oath today that we will defend what we have. We are going to
protect our union and our federation. We must say no, they will never succeed in
dividing our labour movement. We are going to declare Rustenburg an Alliance site.
This is ANC territory – and Cosatu and the SACP,' Ramaphosa said.
NUM had 320,000 members when it held its conference in Kempton Park in May last
year. If there are 200,000 left today, it's a lot. There could even be as few as 120,000
to 150,000 members remaining in the union now.
The defection to Amcu is certainly no longer restricted to the Rustenburg platinum
mines. The union has already lost recognition at all three major platinum producers,
Amplats, Implats and Lonmin, but there are strong indications that it is also going to
lose its recognition at AngloGold Ashanti's gold mines.
Its president, Senzeni Zokwana, is an employee of AngloGold. He was formerly a
rockdrill operator, but became a full-time trade union shop steward years ago and
became full-time vice-president of the union in 1994. He became the president in
2000, but is still paid a wage by AngloGold, like all full-time union shop stewards.
For outsiders, this looks like a huge conflict of interests, but the same thing is done in
all countries where unions have a strong influence.
In South Africa, there are indications that it led to abuses. There are apparently NUM
national office-bearers earning the same salaries as a mine manager is paid by the
mining group. Zokwana's case is even more bizarre, because he is also chairman of
the SACP.
The high salary is one of the main reasons why there is now so much resentment
toward NUM among the mineworkers. This also explains why none of NUM's top
leaders attended the Workers' Day celebrations in Rustenburg. The highest office-
bearer of the union at the rally was Sydwell Dokolwane, the region chairman.
And Ramaphosa is right – the exodus from NUM won't stop at NUM. One wonders,
however, what could possibly give him grounds to entertain ideas that it can be
stopped.