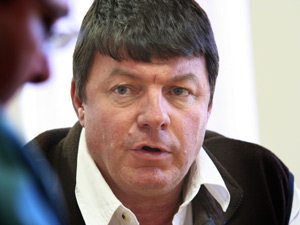 [miningmx.com] – HARMONY Gold was not yet considering restructuring,
but it said it would adopt a series of "austerity measures" – effectively capital cost
reductions – which extended to its Wafi-Golpu project in Papua New Guinea.
A combination of capital expenditure and corporate costs, including renegotiating
contracts with suppliers, would account for a planned R800m reduction in South
African expenditure while up to a R1bn would be lopped off Wafi-Golpu's R5.1bn
development bill for the company's 2014 financial year.
More details regarding cost savings at Wafi-Golpu, which included different timing on
project schedule in terms of a project optimisation study, would be released at the
year-end.
Harmony Gold is the latest company to consider trimming its expenditure amid the
$200 per ounce decline in the gold price during April.
However, Graham Briggs, CEO of Harmony Gold, said the company's gold mines could
be profitable at the current gold price. The company has based its planning on a rand
gold price of R400,000/kg which compares to a price received in the nine months to
date of the current financial year of $462,982/kg.
Commenting on the potential consequences of further margin pressure, Briggs said:
"Underperforming mines at moment are those that are building up production. If we
didn't believe in the orebodies, we'd have a good look at those mines. We believe all
our operations can be profitable at this gold price".
The temporary closure of Kusasalethu following strike action and labour protests
which originated in 2012 and continued into 2013 was the major factor affecting
Harmony's third quarter operating results.
Quarter on quarter, production was 15% lower at 247,529 ounces pushing Harmony
into a loss after exploration and development costs.
On a nine months-to-date basis, production was virtually flat at 861,188 oz, but as
Harmony still carried the cost of Kusasalethu, cash operating costs came in 17%
higher. As a result, net profit in the financial year was 55% lower year-on-year at
R1.13bn.
The balance sheet was in relatively good shape, however. Following the R1.26bn sale
of Evander to Pan African Resources, cash after debt actually increased to R574m
from R138m as of the close of the December quarter.
"We are fully-funded and in a strong situation," said Briggs.
Kane Slutzkin, an analyst for UBS Investment Research, estimated full year
production for Harmony would come in at 1.12 million ounces as Kusasalethu built-up
up after mining activities were suspended at the mine (Briggs said full production
would be resumed by end-June).
There were also operational challenges at Phakisa following ventilation issues and
impacted by a recent fire while Phakisa neighbour, Tshepong, was closed for safety
reasons. "As a result, we contend that visibility with respect to about 35% of output is
weak and hence are cognisant of downside risk to our numbers," Slutzkin said.
David Davis, an analyst with Standard Bank Securities Group said that the key risks
for Harmony going forward was largely related to meeting production targets, as well
as improving efficiencies at the loss-making Hidden Valley.
"The challenge of bringing to book its production strategy while achieving production
targets at its remaining operations [was a key risk to the company]," he said in a
note.