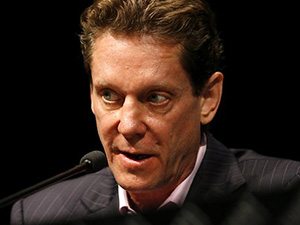 MINING supremo, Robert Friedland, was on top oratorical form during his talk to the Mining Indaba in Cape Town but, sadly, a few factual errors crept into his presentation which referred to, amongst others, former president Nelson Mandela and former Anglo American Platinum chairman Barry Davison.
Factual errors are, of course, something that Friedland constantly accuses the media of committing. It's why he dislikes the media and he has had well publicised run-ins with publications such as Bloomberg and Toronto's Globe and Mail.
Friedland started his presentation invoking the spirit of Madiba who, according to the slide put up, was released from the 'Victor Vestor' prison – which is actually named the Victor Verster prison.
Okay, so Friedland is a globe-trotting billionaire entrepreneur and you can't expect him to know such minor details, but surely his extensive team on the ground in South Africa – on which he heaped effusive praise – would have provided the correct information for his presentation to a South African audience which would immediately spot the error?
Then he dived into a bit of platinum mining corporate history reflecting on the fact that his company, Ivanhoe, was the first company to get new order platinum mineral rights in the country after the ANC took over and he did it in the face of opposition from local industry heavyweights such as Barry Davison.
According to Friedland, Davison told him: "Mr Friedland, you will mine that platinum over my dead body."
Now, as anyone who has ever dealt with Davison will attest, that has the absolute ring of truth. Davison is the man who – when a number of juniors starting muscling their way into the platinum sector which until then had been dominated by Anglo American Platinum – declared: "There will be blood in the streets … and it won't be mine!"
But the rest of Friedland's account was incorrect. He said that when he first came to South Africa "… mineral tenements for platinum were held by one company".
He did not name that company, but he probably meant Anglo American Platinum which did control the bulk of the country's platinum mineral rights, but there were three other large mining companies: Impala Platinum, Lonmin and Northam – as well as various juniors holding platinum mining and exploration rights.
Friedland then glibly declared: "Barry Davison, who ran JCI which became Anglo …".
Actually, Davison ran Anglo's platinum operations which were held through JCI which was controlled by Anglo American Corporation. The man running JCI in those days was chairman, Pat Retief. Davison became chairman of Anglo American Platinum after Anglo split its platinum assets out of JCI in 1995 when it decided to use JCI as its first attempt at black economic empowerment. Anglo American itself was formed in 1917 and was completely separate from JCI which had been created by Barney Barnato in 1889. Anglo subsequently bought control of JCI.
But these are just all boring historical facts, so maybe Friedland was taking a leaf from the book of the journalists he so disliked and opted to "… not let the facts get in the way of a good story". There could be worse to come. Friedland added: "We have been through a lot of interesting stories. When the movie is made it will be a five-year series on Netflix on what it took to get here".