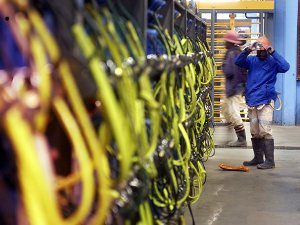 [miningmx.com] – THERE is no doubt that 2014 has been one of the toughest years for all stakeholders in the gold and platinum sector, and that there are significant and unresolved problems for us to fix in 2015.
Nevertheless, our outlook is positive.
Both sectors continue to reduce their reliance on migrant mineworkers from distant South African places and from foreign countries. A decade from now there will be no foreigners employed on South African mines.
Our discussions within both sectors have led to the piloting of shift systems that allow mineworkers more time at home. We think that this will extend the use of labour pools, that currently address daily absenteeism, to include local trained novices potentially subsidised by a government levy.
In short, our ideas at worst will help to save, and at best help to increase jobs in the gold and platinum sector which are otherwise destined to reduce steadily.
Further enhancements to our pre-employment assessments continue to help employers increase their reliance on local labour sources. A key ingredient of success here is getting the new labour pool work-ready, and this requires a forward-looking labour plan to continue to ensure healthy potential mineworkers who can work safely and productively. We believe that it is possible to facilitate a reduction in labour costs and improve skills levels within an overall trend of declining labour demand.
Whilst in employment, initiatives to address peri-mine housing can be augmented by providing loans for mineworkers unable to get conventional loans because of unsecured land tenure.
Here our research shows that 60% of current mineworkers do not want to own houses around the mines, but would prefer to have houses from where they originate.
Our cashless and incremental home building programme is working well enough in test phase to warrant roll out early next year, with a potential link to social and labour (SLP) programmes soon thereafter.
It is possible, therefore, for current mineworkers to avoid debt and simultaneously build their own homes.
Post-employment, there are solutions to the sector's legacy issues, especially the backlog in payments due to ex-mineworkers and their beneficiaries from provident and other funds. Whilst these have arisen in the last decade because the process of completing a claim is arduous and expensive for unemployed ex-mineworkers or their widows, we will continue to physically assist claimants through our walk-in centres near their homes, and aim to verify their details electronically at the time that they make their claim.
The more interventionist role promised by the Financial Services Board (FSB) is a positive move, which we hope will encourage a collaborative approach across the different relevant funds, and lead both to the simplification of the administrative process and to a focus on reducing the backlogs.
Our research also shows that the gold and platinum producers have struggled to manage their SLP project commitments in labour sending areas, where they unanimously identified the need for a coordinating agent.
In 2014, community liaison officers were able to match SLP projects with local development needs for all of the significant labour sending areas.
We will, therefore, be able to provide fresh advice to gold and platinum producers on projects appropriate to their recruiting areas, and give smaller producers the opportunity to partner other producers in their projects.
In summary, stakeholders are recognising the need to find collaborative solutions, and we are well placed to assist in a meaningful way.
The size of the problems need, as one ingredient, scalable systems and a known infrastructure of which the unit costs of operating are less than recreating another institution.
These are the reasons for TEBA's optimism in 2015, and the strategy that we continue to refine allows TEBA to remain relevant within a changing industry for future years.
Graham Herbert is the MD of Teba which provides services to mineworkers including recruitment, employment readiness, community development and social upliftment. Herbert completed his medical internship at an Anglo American mine hospital in Welkom before joining a management trainee programme. He worked at AngloGold Ashanti for five years and has worked for Teba for the past 14 years. He has a BSc from the University of Cape Town and a research fellowship from Cambridge University.