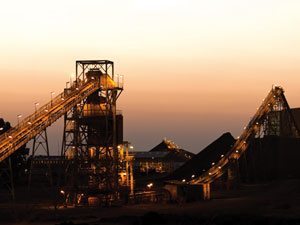 [miningmx.com] – THE main problem with a one in 100 year 'commodity boom' is … it only happens once every 100 years. So what happens for the rest of the century; in this case, the remaining 85 years?
What's more, the mining industry has built up some bad habits during the past 12 years that have hurt productivity hugely. And like all bad habits, those that were built up are going to be very hard to kick.
If mining is ever going to be looked at as an investment again, then all of the industry's participants need to develop some good habits very quickly. None of them can continue with "business as usual'.
A decade or more of sky high commodity prices makes it very hard for "anyone' to come back down to reality. The mines, government, unions, suppliers and workers – all of them are still stuck in the high commodity price cloud. All of them.
They all need to wake up and improve their productivity fast, while there are still a few mines left to save. That's because investors have flown the coup "big time' and will need a lot of coaxing before even "thinking' about coming back.
As for South Africa, foreign producers are mining cheaper and taking our investors.
All parties mentioned – need to genuinely ask themselves: Why should anyone put any money into the mining sector, especially if the probability of an above market return is so low? (0% a year for the past 9 years! Our RESI 10 in dollar terms).
If someone is optimistic on a commodity, they can buy an ETF or ETN "based' on that commodity. It is easy to understand the allure of ETF's and ETN's and the reluctance to hold a mining equity.
Since 2007, the gold price has beaten the total return of the South African gold index sixfold. And in the case of platinum versus the platinum index, the out-performance has been fourfold. The base metal index has beaten Anglo American twofold since 2012, as did the coal price against Exxaro Resources and iron ore to Kumba Resources.
But it doesn't "have' to be this way.
Sasol managed to hold its own against. the oil price as did Mark Bristow at Randgold Resources against the gold price.
And South African gold companies managed to beat the All Shares index for decades by being efficient, cost conscious and innovating and increasing productivity regularly.
Granted, the unions and government were more accommodating then when job creation and preservation was everything. But it can be like that again as it benefits all parties so much.
The alternative is extinction. 6550 abandoned mines.
Only mining companies, government, and unions together can save our industry. This is the tripartite alliance that's needed today to save South Africa; not the other one).
The IT sector and industrial companies innovate constantly and assume lower prices will prevail in future. Mining companies used to operate like that. Now they have to again.
Peter Major is a mining consultant for Cadiz Corporate Solutions.