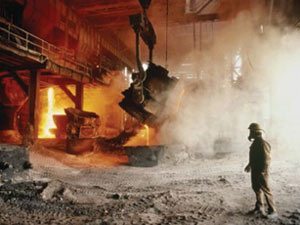 [miningmx.com] – THE cyclical low in metal prices has taken its first major scalp on the Johannesburg Stock Exchange (JSE) after Evraz Steel & Vanadium, a steel producer, said it would go into voluntary business rescue.
The R163m company said in an announcement that the stability imposed by a recent operational turnaround plan could not save it owing to "… weakened global steel and vanadium markets" and a "severe reduction" in domestic steel demand.
The company said it did "… not have adequate funding to meet its obligations for the short term," owing to "… historical operational difficulties and sustained financial losses within a capital constrained operating environment".
"Highveld's financial position has further been negatively impacted by weakened global steel and vanadium markets and a severe reduction of domestic steel demand," it said. Shares in the company, which have collapsed from about R5 to R1,65 in the last six months, were suspended on the JSE today.
Business rescue is a provision in South Africa's Companies Act in which a business rescue practitioner is given three months to put a distressed firm's financial affairs in order, normally a firm that would otherwise become insolvent. Highveld said it had appointed Daniel Terblanche and Piers Marsden as joint business rescue practitioners.
In addition, Highveld said an agreement for Macrovest to buy 34% of the shares in the company from Evraz, which owns 85% of the issued share capital, had lapsed. The planned publication today of Highveld's results would also not proceed.
South Africa's other major steel producer, ArcelorMittal South Africa, reported in February a full-year loss of R227m. Its CEO, Paul O'Flaherty, said the company would see continued poor prices in the first half of its new financial year.
The slump in steel prices has even extended to AMSA's parent company, ArcelorMittal, which suffered a downgrade of its credit rating after Standard & Poor's downgraded its debt to junk owing to weaker iron ore prices.