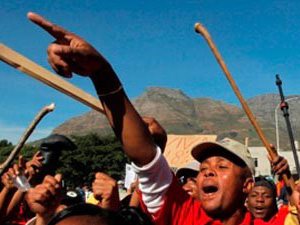 [miningmx.com] – THE finger-pointing that has followed publication of the Farlam Commission's Marikana report is counter-productive while it deflects attention from addressing the underlying causes of the tragedy. Let us focus on living conditions for mineworkers.
Farlam found that a fundamental cause of what transpired at Marikana was Lonmin's failure to build 5,500 houses for employees in terms of its social and labour plan (SLP).
Farlam recommended this be drawn to the attention of the Department of Mineral Resources (DMR), so that government could enforce Lonmin's SLP obligations (non-compliance could lead to the loss of Lonmin's mining right).
One has to be realistic. What are the issues from Lonmin's perspective and those of its workers? Workers do not necessarily want houses near the mines. Migrants from rural areas or neighbouring countries often prefer to have permanent homes elsewhere and to live in rented or other accommodation while at work.
Indeed, one reason for Marikana's plethora of informal settlements was that some 60% of all workers choose living-out allowances (LOAs), designed for accommodation, to augment their incomes and to send money to their remote homes. It is worth recalling that LOAs were introduced by the mining companies at the instigation of the National Union of Mineworkers, not imposed from the top down.
On the question of choice, workers do not always aspire to the sort of accommodation the mines might provide. This is not to sidestep Lonmin's failure to build 5,500 houses, but it raises the question of whether employees can access loan finance to purchase a home? As for social conditions, a significant part of the responsibility for those that turned into Marikana must be laid at the door of local government.
Why, with all the resources available to it, did the Rustenburg local municipality not deliver on its responsibilities, if only to provide basic infrastructure to the informal settlements where miners opting for LOAs choose to reside?
These settlements house anything between 50,000 and 150,000 people, to whom the municipality has simply not provided direct potable water, sanitation or refuse removal.
The municipality's dysfunction is evidenced by the fact that it has received qualified annual audits from the Auditor-General from as far back as 2008. In other words, local officials have mismanaged the substantial funds made available by ratepayers or by the national government, and for which there is little to show.
Where has the unaccounted money gone? Since August 2012, the month of Marikana, conditions in the informal settlements under Rustenburg's jurisdiction have remained as bad as ever notwithstanding two interventions by the national government to address distressed mining communities.
But how might a municipality with severe competency challenges address conditions in the settlements given the confusing regulatory environment?
The mining industry's housing and living conditions are regulated by no fewer than four separate and distinct policy documents specifying different conditions – the Mining Charter, the Housing and Living Conditions Standard, the Social and Labour Plan (SLP) guidelines and the Mining Codes of Good Practice. Combining them in one regulatory framework would be a good start, clarifying the responsibilities of mines and government.
Two years ago, following Marikana, government, labour and business signed the Framework Agreement for Sustainable Mining. At the end of June this year, President Zuma indicated that R18bn had now been allocated to assist distressed mining towns of which, he added, one third would be contributed by mining companies.
According to the DMR, this Presidential Package is designed to improve living and working conditions in mining towns, though there is little clarity on what has been spent and on what.
As a start, I would suggest that decent housing be provided through public-private partnerships, if such arrangements can be agreed with local and provincial government. But how should housing be allocated and paid for, particularly if miners continue to prefer LOAs?
Interventions should not be ad hoc, with individual mining companies making separate contributions to socio-economic development in their host communities. Far better would be for the DMR to drop its opposition to the mines working together on unified SLPs that avoid wasteful duplication of services.
Unfortunately, neither the Mineral and Petroleum Resources Development Act nor its Amendment Bill, currently marooned in Parliament, addresses the issue, although there is no reason why it should not.
We need a combined effort by the Framework Agreement's signatories to determine not simply what needs to be done to address the scar of informal settlements blighting the platinum belt, but how it might best be achieved.
Peter Leon is a partner at Webber Wentzel.