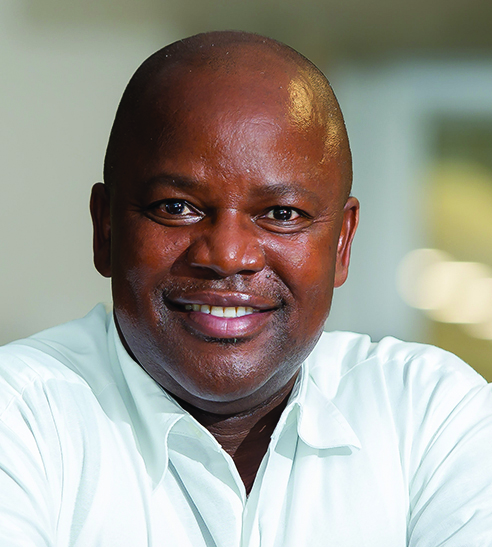 July

Ndlovu
CEO: Thungela Resources
'I believe in the fundamentals of coal and Thungela is a true coal company. This surprises a lot of people'
MANY hard-working CEOs of solid, profitable companies can only dream of seeing their share prices soar tenfold in the space of 18 months. Thungela's listing on the JSE at R29 – as Anglo American spun off its unloved South African energy coal assets - in mid-2021 coincided with the beginning of a steep climb in seaborne thermal coal prices after Russia's invasion of Ukraine. Who could have forecast it? (Certainly not Anglo American, or it would surely have held on a bit longer.) After touching a peak of R370, Thungela's shares had retreated to just above R289 by the end of 2022.
The revival in the coal price has overwhelmed all the other considerations that should, frankly, make Thungela a share from which to to run screaming. Its focus on thermal coal makes it uninvestable for institutions that have pledged to avoid fossil fuels. It operates in South Africa, where inconsistent government policy, angry communities, illegal mining and badly managed infrastructure make it exceedingly hard to operate. For example, Thungela could have exported 600 000 tonnes more coal in its 2022 financial year than it actually did, because of Transnet's fumbling. Despite that, the group still expects to report a near-doubling of headline earnings. Illegal mining has also had an impact, substantially raising Thungela's rehabilitation costs.
July Ndlovu expects demand for thermal coal will persist until 2050, commenting that, "I want the coal being burnt to be ours." Thungela was last year linked with a bid for BTE Renewables, a company owned by Actis LLP, which wants $800m for the business. Ndlovu hasn't commented on the speculation but he proudly stood behind a deal in November to exchange R1.1bn in Thungela shares for the balance of its Zibulo North and Elders projects ahead of a multibillion-rand expansion. The deal was with Thungela's empowerment partner, Inyosi Coal, which now holds a stake in the tradeable parent company.
LIFE OF JULY
Ndlovu, who is 58, was born in a rural village in Zimbabwe, and completed a BSc Honours in Engineering at the University of Zimbabwe. He joined Anglo American Platinum in 2001 as business manager of the Polokwane smelter, and over the next 15 years climbed rapidly through the Anglo American ranks to become the CEO of Anglo American Coal in 2016. He is chair of the World Coal Association. Ndlovu has also studied an MBL through Unisa and completed the Senior Executive Programme at Columbia Business School. In his leisure time, he enjoys photography, gardening and golf.
More Rainmakers & Potstirrers