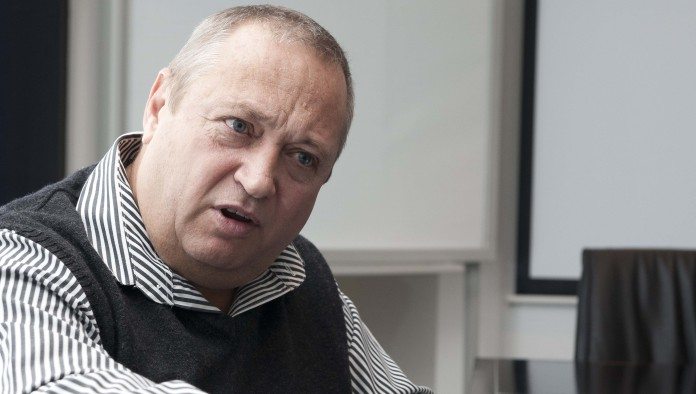 NEAL Froneman has never been known for reticence. At a time when the mining industry was debt-shy, Sibanye Gold moved in the opposite direction as best demonstrated by its R30bn cash and share bid for Stillwater Mining, a US-based company.
No one quite believed him when in 2013, less than a year after Sibanye had been created from the demerger of Gold Fields' South African mines, he resolved never to be a "Pacman"; that is, embarking on an aggressive merger and acquisition strategy.
Months after uttering these words, Sibanye had hoovered up the Cooke shafts west of Johannesburg and bid R407m for Wits Gold. A string of deals, including the quick-fire takeover of Aquarius Platinum and shafts in Rustenburg Platinum Mines, previously owned by Anglo American Platinum, duly followed.
It seems that now Froneman is drawing breath. Buying Stillwater Mining is a massive undertaking for Sibanye's balance sheet, which shouldered $2.65bn in bridging finance. The sum was subsequently partly settled with $1.05bn in bonds and a $1bn rights issue – the largest ever in South Africa for a single transaction.
For Sibanye, the outcome is that it takes its platinum group metal (PGM) production to about 1.6 million ounces a year, more than matching its gold production, and sees the company establish geographic diversity at a time when the mining sector is in meltdown in South Africa following a series of regulatory shocks and blows to confidence.
I don't see how any CEO can invest in this country at this point of time – Froneman
Reflecting on Sibanye's break-neck growth as a precious metals company – it is the world's third-largest palladium and platinum producer, and the world's fourth-largest gold producer – one thinks of a description applied once by a UK banker to Brian Gilbertson, another aggressive expansionist, whom it was said was like a racing car; you might get a few prangs along the way, but you'd get there very fast. As a racing enthusiast, Froneman might appreciate the analogy.
For now, however, Froneman said there's no immediate prospect of the company spreading its wings further; especially in South Africa owing to a downturn in its regulatory environment. Might this be a convenient excuse, though, for the fact that Sibanye has finally over-extended its financial resources, as some analysts claim?
"Yes, partially," said Froneman during an interview at the firm's Libanon mine offices – once the mine hospital – near Carletonville. "But I don't think anyone who works with public money can actually sit in front of a shareholder and defend investing significant amounts of money where you can't actually provide your investors with regulatory certainty, or have a reasonable amount of certainty in the outcome."
He is referring, of course, to the disastrous re-draft of the Mining Charter which has set down some targets for black economic empowerment that the Chamber of Mines said was unrealistic, unreachable even. The Chamber also claimed that the Charter was written without much consultation with the mining industry.
The tipping point in respect of the investability of South African mining came somewhat earlier for Froneman, however, with the March 31 sacking of finance minister, Pravin Gordhan, by South African president Jacob Zuma.
"That was the final straw," said Froneman. "Until there's a change in attitude towards business, until this rhetoric around radical economic transformation stops, until we can actually provide our investors with regulatory certainty, I don't see how any CEO can invest in this country at this point of time."
Prior to these developments – the Cabinet reshuffle that spelled the end of Gordhan as finance minister and the publication of the Mining Charter – there was speculation that Sibanye would add to its platinum investments in South Africa.
It was speculation fuelled by Froneman himself who said that despite having bought Amplats's Rustenburg mines and Aquarius Platinum, and notwithstanding the Stillwater Mining acquisition, a mine-to-market deal would transpire; in other words, Froneman would seek assets with refinery capacity that would give it an alternative to expensive toll smelting with a third party, currently Amplats.
"Let me say this: we have enforced our platinum strategy and it does involve getting to a mine-to-market model. There are many ways of getting there. For me, it's difficult to comment on Lonmin. I think that the market always overreacts on the bottom side and the top side, so the potential for another ratings downgrade is real, which is going to have a very significant effect on the rand and that might 'buy' Lonmin time."
"But our first priority is to stabilise our balance sheet, complete our financing, integrate Stillwater, and if there are opportunities post that, we can look into it. We can't, especially for a risky asset, extend our balance sheet even further," he said.
Quite apart from the theory of buying assets, there's also the practical difficulty of both justifying and financing acquisitions in South Africa because of the deterioration in the business climate.
Said Froneman: "What practically happens is when you look at your weighted average cost of capital, there's an equity portion and there's a debt portion in terms of determining the discount factor. What's happened here, because of the uncertainty and lack of investor friendliness, is those discount factors have gone up 4% to 5%, which means our projects do not meet our hurdle rate.
"Our hurdle rates have also had to go up because of the risks associated with it so I suppose we will always be balanced in our thinking. If there's a 'dripping roast' that meets our hurdle rate, and it's the best project or acquisition to do, it will be driven by proper financial analysis," he explained.
"That doesn't mean that there's no scenario where there's further steps in South Africa. At the same time, assets in South Africa are going to become cheaper and cheaper under this scenario and in some ways, that will balance out. But I think under current conditions, you still remain with huge uncertainty which means that it's unlikely that any of the South African assets and projects are going to meet hurdle rates.
"It doesn't matter how competitive, or the fact that you're the only buyer here, you are still dealing with shareholders' money."
ANALYSTS have been critical of the Stillwater Mining deal, claiming it is heavily dilutive, both of Sibanye's stock and future earnings. According to a report by Citi in May, it believed the deal would result in a 19% to 48% decrease in Sibanye's headline share earnings between 2017 and 2022, and a 28% decline in Sibanye's net present value per share. The bank also noted, however, that shares in Sibanye had already factored in these effects. It concluded at the time, that Sibanye was its favoured South African gold share.
In the view of Goldman Sachs, the bid for Stillwater was a "leveraged play" on palladium prices despite a run in the price of the metal at time, which it attributed to the prospect of US tax cuts that might lead to increased demand for automotives. This is because Stillwater is, unusually in the PGM supply-side sector, predominantly a palladium producer in a ratio of about 78% to 22% platinum. And the prospect for palladium divides analysts.
"The key market for palladium, the US (which is 25% of total autocatalysis demand), is peaking with our autos team forecasting US sales to come down over the next couple of years," said Goldman Sachs. "The significant long positioning in the commodity post the US election on expectations that potential would lead to higher auto demand. As such, we remain bearish on palladium in the near term."
Investec Securities said in a report in July that palladium was its preferred metal in terms of price prospects: "We expect palladium's discount to platinum to narrow further, with constrained supply and a superior demand outlook underpinning superior price prospects for palladium, with only modest risk of substitution while the discount to platinum remains."
Said Froneman: "We still see a significant deficit in palladium to the point where we need to consider how we include more platinum in gasoline autocats.
"I think the market could well [do that]. If it does, we need to ensure there's no price bubble in palladium, and therefore we need to make sure that there's not a substantial shortage and that substitution does happen in a responsible way."
ALTHOUGH the takeover of Stillwater adds to the list of transactions Sibanye has completed since listing on the Johannesburg Stock Exchange just four years ago, it is the first that isn't predicated on a turnaround, or where the assets are to be selectively mined, or even where synergies are to be extracted. In a sense, Stillwater represents the "finished article" for Froneman – a point he acknowledged.
"It's completely different to a Rustenburg and an Aquarius which are acquisitions that we bought for turnaround and synergies. In Stillwater, there's practically no turnaround and there's very little synergies," he said.
What we are being very careful not to do is to arrive as South Africans and tell them there's a better way to run the company – Froneman
There are a few changes that Froneman is planning to make including accelerating Stillwater's Lower East Boulder project – an expansion that stands in addition to the $175m to $190m Blitz expansion, which is already underway. "They are talking about eight to 10 years," he said in terms of the development of East Boulder whereas Froneman is thinking of some five years.
In the main, however, Froneman intends to give support to what's already there although he does intend to devote roughly half of his management time to Stillwater. "What we are being very careful not to do is to arrive as South Africans and tell them there's a better way to run the company.
"That's not what we bought.
"We bought a company where the value is not fully recognised by the market because the market hasn't been able to factor in Blitz; it hasn't been able to factor in all the additional productivity and therefore the cost improvements. And that's the benefit to shareholders.
"So we don't want to disrupt it; if anything, we want to play a much more supporting role than a disruptive one."
*Sibanye announced on August 30 it planned to rebrand itself Sibanye-Stillwater in recognition of the important addition of the Stillwater Mining asset.