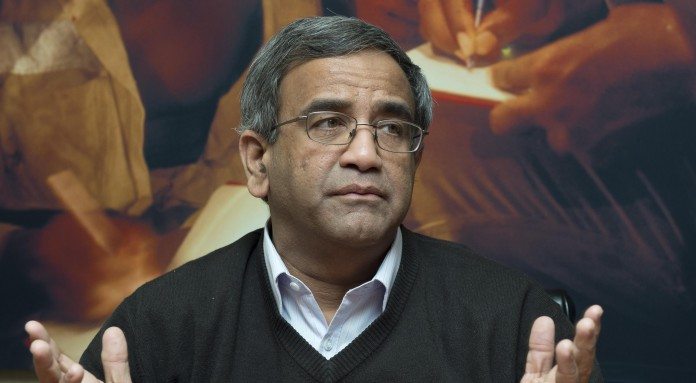 TWO years ago – when interviewed for the 2015 Miningmx yearbook – AngloGold Ashanti CEO Srinivasan 'Venkat' Venkatakrishnan hit all the right optimistic notes required from a heavyweight South African mining executive talking about the future of the country's mining sector.
A lot has changed in those two years – most notably the confirmation of the ANC government's hardline stance towards the mines, which culminated in the release of the third revised version of the Mining Charter in June – and so has Venkat's attitude, although he is still trying to put positive spin on the situation.
Choosing his words carefully, Venkat now tells Miningmx that "… compared to a year ago my optimism has come down," as he embarks on the restructuring of two more mines – Tau Tona and Kopanang, putting 8,500 jobs at risk – while trying to make sure the promised deep-level, mechanised future of some of the group's remaining mines will actually happen.
In 2015, the gold industry was involved in wage negotiations and Venkat believed it would be possible to negotiate a "social compact" with the unions and government through which mineworkers' pay would be linked to productivity. He also rejected Miningmx's contention that the ANC government "had it in" for the mainstream mining business on ideological grounds and that this was a major factor in the ANC's – at best – vacillating and uncooperative and – at worst – hostile stance.
Even a year later Venkat was still hoping for the best when he told Miningmx in May 2016 he had "high expectations" that discussions with government would lead to a modified draft Charter, commenting: "I am quite confident we will see a modified version of the Charter post these negotiations."
What is happening now does bear out the one caution that Venkat did sound back in 2015 which was that should there be no social compact and productivity agreement then "the inevitable" would take place, which is the closure of non-profitable shafts and the associated retrenchments.
But he stressed that this "inevitable" situation was not the underlying reason for the closures at Kopanang, Tau Tona and Savuka because these are all old to very old operations that have come to the end of their lifespans.
Instead, "the inevitable" applies to the economic lives of AngloGold's remaining operations – Moab and Mponeng – which Venkat points out, "… both require investment and we will have to evaluate that investment against the background of what cost inflation we are going to see and also the demands of the new Charter".
Asked whether Savuka, TauTona and Kopanang could be sold to another operator Venkat replied: "You never say never. We will look at this during the Section 189 process that is getting underway but we are very cognisant between the interconnectivity of these mines and our other operations.
"We cannot take a short-term approach which will create a long-term compromise because you don't want a situation – and I don't want to mention names here – similar to where other mining companies have acquired assets and it's been a complete disaster. You don't want that at your doorstep because it impacts directly on your mine."
Venkat flatly denied market speculation that AngloGold had done a deal with Harmony to sell all the group's South African mines, but that this was blocked by the Department of Mineral Resources.
He also played down the continuing speculation over AngloGold's reputed desire to get out of South Africa through a split between its South African operations and its foreign operations where the group's future growth clearly lies. "Again, you never say never but, effectively, the debt levels are still too high and that has been the case since 2014. Until that problem is addressed doing a clean split will be an issue".
LESS OPTIMISTIC
Asked about the ANC's ideological approach to the South African mines Venkat commented: "We have always believed the debate should be about how you increase the size of the pie rather than how you divide a shrinking pie, which means everybody gets a smaller share than they would have got otherwise.
"Unfortunately, the debate has not gone in that direction. So, I am less optimistic. I think the extent of trust is broken far more than it was before. Can it be rebuilt? Yes, but it requires everybody coming to the negotiating table again to debate how do we increase our growth and then look at the best way to share that increase. That debate is not happening at the moment. The pie is shrinking faster and people are fighting over what is the bigger share of that shrinking pie."
So why is the ANC going this route is the next obvious question, to which Venkat replied: "I cannot answer that question. You should ask the ANC but, in my view, you cannot be anti-business and pro-growth. It's not possible for those two attitudes to co-exist.
"Currently we are seeing a lot of negative populist rhetoric which is creating momentum and to reverse that is going to be a big challenge because expectations have been raised. The reason I am not a full pessimist is because I have seen jurisdictions go up and down. Ghana, for example, has swung 180 degrees in our favour with its new, investment-friendly government."
Turning to the future of AngloGold's remaining South African mines – for which ambitious plans for deep-level mechanised mining operations are being drawn up – Venkat said: "It is part of the consultation process underway with the unions and I don't want to pre-empt the outcome. Mechanised mining cannot be done separately. It must be supplemented by conventional mining. You need cash flow to fund research and development".