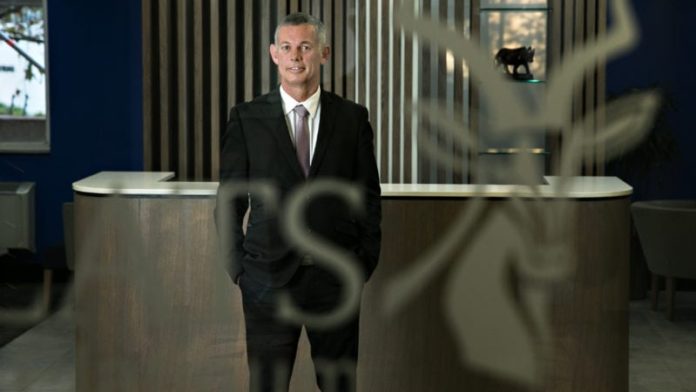 This article first appeared in The Mining Yearbook 2018 distributed through Finweek on August 9, but written a month before. The article has been updated where practical to account for subsequent events.
IMPALA Platinum (Implats) CEO, Nico Muller, has been in the hot seat for just over a year since taking up the position in April 2017 and, as this Mining Yearbook goes to press, he is facing up to a "make-or-break" decision: what to do about the loss-making Rustenburg Division mines.
In September last year, Implats started a Section 189 consultation process with the South African government and its employees looking at a proposed restructuring of the Rustenburg Division. The outcome is due to be announced this September, but it's possible Implats may release the report sooner. (The firm subsequently unveiled plans on August 2 to cut production 30% at the shafts in a development that could affect up to 13,000 jobs).
The Rustenburg Division is the only section of Implats' operations which is losing money. Production from the division, which consists mainly of old, deep-level shafts, has dropped from a historic base of around one million ounces of platinum annually to a forecast 680,000 ounces to 720,000 oz for the financial year to end-June 2018.
Ten years of falling platinum prices, rising costs and declining labour productivity have brought matters to a head. The Implats' share price has dropped over the past decade from a high of R300/share to current lows around R20/share as investors have slammed management's apparent reluctance to take decisive action to deal with the situation.
In April, JP Morgan Cazenove described South Africa's major platinum producers as "a dysfunctional oligopoly" because they were looking to increase supply – on the grounds of achieving lower unit production costs – into an over-supplied market.
JP Morgan singled out Implats in particular as being the "most vulnerable producer" and estimated the Rustenburg division "will burn more than $1bn cash at current prices across the period 2018 to 2020, equivalent to Implats' market capitalisation".
Muller tells Miningmx that: "It's critically important that Rustenburg becomes cash positive. I can't go into the details of the restructuring at this stage, but we believe there is still potential at Rustenburg and we see ourselves maintaining a position in Rustenburg.
We have potential boundary synergies with both Sibanye-Stillwater and Royal Bafokeng Platinum."
Asked about the JP Morgan criticism, Muller replies: "As an industry, supply-side discipline has been lacking historically. We have been eternal optimists concerning the bottoming-out of the cycle.
We don't believe it is in the interest of the country, the communities, our employees and our shareholders to run indefinitely with multi-billion rand cash losses per annum. We have reached a position where we have to make some bold decisions.
"But we operate in a commodity industry where the game is dictated by your position on the cost curve. Your strongest individual competitive edge is lowering your position on the cost curve and the easiest way to achieve that is to increase the number of units that you divide your overall costs with.
"Value has become the new key word. We have seen loss-making ounces come off the market; we have seen a reduction in capital expenditure from all the companies including ourselves."
The other issues concerning closure decisions include the impact on communities and the likely repercussions from organised labour and government over mass retrenchments. Muller comments: "As a South African producer, we are acutely sensitive to the social impact of our actions. That's a material consideration when we evaluate our strategic options. But when a business is in a cash loss position that is unsustainable – as Rustenburg is – you have to take all the factors into account.
"We don't believe it is in the interest of the country, the communities, our employees and our shareholders to run indefinitely with multi-billion rand cash losses per annum. We have reached a position where we have to make some bold decisions. If we do not, then Implats as a group is at risk. Rustenburg requires a fundamental change. We have done the review and believe we have an answer."
Two underlying factors driving what will happen at Rustenburg are Implats' view on the future of the platinum market as well as its assessment of alternative mining options of which it has two – the highly-successful Zimplats operation in Zimbabwe and the new Waterberg JV with Platinum Group Metals (PTM) in Limpopo province where a feasibility study is under way.
The Waterberg deposit contains far more palladium – around 60% – than the standard Merensky and UG2 reefs which are the mainstay of the South African platinum mines and it can be developed as a low-cost, shallow, mechanised operation.
Says Muller: "To bank on a market recovery is a very risky undertaking for any company evaluating strategic direction going forward. Our strategic decision-making is based on the view that current market conditions will be the 'new normal'.
"We expect there will be a more buoyant palladium and rhodium market and that platinum is going to remain depressed for an extended period. We have to develop solutions to become profitable under those conditions. Waterberg is one of those possible solutions.
"If Waterberg was operating today in the manner that we expect it will it would be a significant cash contributor."
ZIMPLATS, in which Implats has an 87% stake, has been the group's blue sky option for nearly 20 years, but it may be about to deliver following the regime change in Zimbabwe last year.
In June, Implats announced it had secured two mining leases covering its Ngezi/Portal 10 area and, Hartley/Selous Metallurgical Complex, which were valid for the life-of-mine of Zimplats operations. These replaced the 20-year special mining lease which was due to be reviewed in August 2019.
Muller comments: "The political changes have brought a new era of confidence for ourselves. The conversion to the mining lease comes at a great time because we were facing a tax rate of just short of 70% under the special mining lease which now drops to below 40%.
"The investment climate has changed dramatically and we think we are well-placed in terms of the indigenisation requirements".
There is opportunity to grow Zimbabwe, but the next ounce of platinum will be an expensive ounce.
But this has come at a considerable cost to Zimplats which has been forced by the Zimbabwe government to give up two-thirds of the original mining lease area granted to it.
One chunk went a decade ago to Russian and Chinese interests who have done nothing with the ground. The second chunk went to newcomer Karos Mining – run by serial South African mining entrepreneur Loucas Pouroulis – as part of the deal to get the new mining leases granted.
Zimplats currently produces 270,000 oz of platinum annually. Former Implats CEO, David Brown, talked about growing this to a potential one million ounce, given the right circumstances, but that's clearly no longer a possibility.
Said Muller: "There is opportunity to grow Zimbabwe, but the next ounce of platinum will be an expensive ounce because we have to invest in additional surface processing infrastructure if we want to produce above the current volumes."
He indicates that future growth may well be in partnership with the newcomers who are willing to invest in the industry in Zimbabwe and co-operate with other players.
"We don't think it's possible for us to grow our mining presence unless the economy of Zimbabwe is growing. We see new parties expressing interest in the country as  positive and exciting."
Muller – on the face of it – appears sanguine about the loss of ground.
"Given the principle of 'use-it-or-lose-it', we think it is right in the absence of a clear investment plan from our side that we cannot hold claim to the land indefinitely because that creates an artificial barrier to entry."