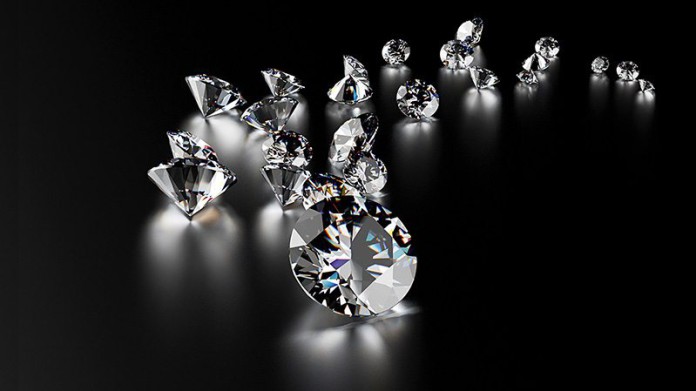 In 2016, the value of diamonds bought in the US retail market topped $40bn for the first time as more prosperous consumers returned to the luxury goods market.
In the same year, 134 million carats of diamonds were mined, 20% less than the peak of 176 million carats mined in 2005. Canaccord Genuity forecasts only 101 million carats will be mined in 2030.
The demand and supply imbalance suggests this should be a good market for investors. Yet for many, it has proven extremely disappointing, for several reasons.
Some of the companies that tried to build new mines failed to meet targets. In some cases, banks and shareholders lost patience. The growth of synthetic diamonds has undermined the concept of rarity on which De Beers has based its marketing strategy for decades.
James Campbell, MD of Botswana Diamonds, says from a demand perspective, the industry is looking robust. "Diamonds have been the best performing commodity since the global financial crisis and diamond prices have shown the lowest volatility of any commodity.
"On the supply side, the old mines are getting older and harder to run. Because no money is being spent on diamond exploration, we are seeing real diamond price growth."
Still, the industry is littered with casualties. AIM-listed DiamondCorp Holdings, which was building the Lace diamond mine near Kroonstad, went into business rescue in November 2016 as various delays in bringing it on stream consumed its cash. The final straw was unusually heavy rainfall that flooded the mine and caused further production delays. A few months later, after attempts to put together a finance package failed, it went into administration and is currently up for sale.
Firestone Diamonds brought the Liqhobong diamond mine in Lesotho into commercial production in mid-2017. It was originally planning to produce a million carats a year, but the diamonds extracted in the first few months delivered values well below expectations, at an average of $82/carat. There were also initial problems with the processing plant.
Firestone had to go back to its shareholders to ask for another $25m in December last year, revise terms with its financiers and come up with a new mine plan. In the past 12 months its shares have fallen to 5p per share from 41p/share.
An even bigger disappointment was Petra Diamonds, which for several years was a market favourite as it demonstrated it could buy ageing mines from De Beers and extract better results. It embarked on an ambitious expansion programme in 2009 across its portfolio to increase production from about 1.1 million carats to about five million carats a year by 2019, which built up substantial debt.
But Petra has hit some unexpected hurdles.
Its Cullinan C-Cut expansion project and the new sub-level cave at Finsch have both experienced delays. In the 2018 financial year Petra experienced strikes in South Africa and the Tanzanian government blocked the export of a parcel of 71,654.45 carats from Williamson mine. It has also experienced other issues in relation to tax and legislative changes in Tanzania which have cost it $35m to $40m.
Petra has had to seek waivers from its lenders on three occasions to avoid breaching covenants. In May it announced details of a fully underwritten $178m rights issue, priced at 40p per share, which represented a discount of about 35% to the prevailing share price. It will help to reduce debt and provide working capital.
Gem Diamonds, a company run by CEO Clifford Elphick, launched with much fanfare to the London market a decade ago, embarked on an acquisition strategy and a new mine in Botswana, Ghaghoo, at a cost of almost $5bn. Only three years after its official opening, Ghaghoo was put on care and maintenance, and is now up for sale. Apart from delivering lower quality diamonds than expected, Ghaghoo faced operational problems such as a sinkhole which sterilised a portion of the resource.
Gem Diamonds has sold off most of the unwise acquisitions it made in its early years and is now focused on a single mine, its 70% stake in Letseng in Lesotho, which delivers exceptional diamonds from time to time. In January, Letseng uncovered its biggest ever gem-quality stone, the Lesotho Legend, which was sold for $40m.
Gem has embarked on a four-year business transformation strategy designed to improve the operational and financial performance of the group, and deliver $100m of savings and additional revenue.
Investors in diamond companies are concerned about high debt levels, says industry consultant John Bristow.
"There was nothing wrong with those companies' resources and projects. South Africa has excellent geologists, mining engineers, engineering companies, and service providers able to build world class mines and processing plants – you have only to look at Petra's modernisation of Cullinan in South Africa and at Lucara or Lucapa in Botswana to witness the capabilities of South African expertise.
"However, with investors becoming increasingly watchful of balance sheet stress, greater prudence in developing and ramping up projects was needed," Bristow says.
Campbell says investors are reluctant to support diamond exploration because it is risky. The valuation of some listed diamond companies was possibly quite high and production targets were missed, leading to investor disenchantment.
"Overriding all this is that it is a very complicated sector to explain. The public understands the jewellery market and demand, but they struggle to understand exploration and production. There is very little quality independent research any longer, from people like Des Kilalea and James Picton.
"Investment bankers presented with a range of competing projects find it easier to understand lithium or gold. Still, if you can get a quality project and you can work through it, it has great potential," Campbell says.
Bristow says diamond companies should not underestimate the challenges and impact of synthetic gemstone diamonds.
In a strategy to differentiate mined and synthetic diamonds, De Beers Group announced earlier this year it would sell synthetic diamonds too, but well below the price of mined diamonds.
"With growing consumer focus on branded luxury products, the difficulty of branding diamonds comes into play," Bristow says. "Branded synthetic gemstone diamonds are increasingly appearing at the lower end of the diamond value chain.
"With the world average diamond size being approximately 0.30 carats, an average value of about $90 per carat, and the bulk of production comprises melee of 0.18 carats and less, synthetic gems will increasingly impact the cheaper end of the market," he says.
In May 2018, the Diamond Producers' Association (DPA) conducted a survey that showed 68% of US consumers did not consider synthetic diamonds to be real because they did not come from the earth. Between June 2017 and June 2018, the DPA spent $40m on marketing campaigns in the US around the slogan "real is rare". Its current global budget has increased to $70m.
Bristow says the future looks more assured for mines and companies which can recover exceptional large stones and rare coloured diamonds. This category includes Gem Diamonds, Lucara Diamond Corporation, Lucapa Diamond Company, and Petra's Cullinan Mine as well as alluvial producers with high average run of mine (ROM) diamond values.
They are likely to outperform kimberlite mine producers with low ROM value.
Bristow says the influx of diamonds into the market from illegal miners and negative connotations with human rights abuses and child labour are all negative for the industry.
"The other issue that hardly needs to be reiterated is the South African-specific factors, like the long-drawn-out uncertainty over the Mineral and Petroleum Resources Development Act (MPRDA) Amendment Bill and the mining charter, that deter investors," Bristow says.
"Overseas investors wanting to put money into a diamond company would far rather invest in a miner in Botswana like Lucara, which is operating in a country of greater regulatory clarity than South Africa. Long-term investors want stability."