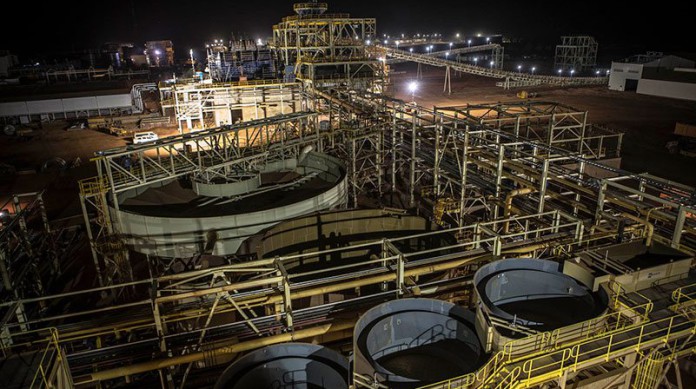 THE transformatory impact of B2Gold's Fekola gold mine in Mali, commissioned last year three months ahead of its original schedule, were in plain view earlier this week as the company forecast a 300,000 ounce jump in annual production in 2018, and a significant fall in all-in sustaining costs (AISC).
The Toronto-listed firm said in its fourth quarter and full-year trading update, published on January 11, that the outlook for 2018 provided for "dramatic production growth". The expectation is that B2Gold, which also mines in Namibia, Nicaragua and the Philippines, will produce between 910,000 and 950,000 oz of gold.
Cash operating costs and AISC would come in between $505 and $550/oz and between $780 and $830/oz respectively. This compares cash costs of $610 and $650/oz and between $940 and $970/oz respectively in the 2017 financial year. Gold production for the year was put at 630,565 oz – a ninth consecutive year of record output.
The Otjikoto Mine in Namibia also had a record year in 2017, producing an annual record of 191,534 oz of gold exceeding the upper end of its revised production guidance range by 6%, and the top end of its original production guidance range by 9% or some 16,534 oz.
The company has budgeted for exploration of about $52.4m in West Africa and Nicaragua in 2018 of which about $25m will be spent on exploration in Mali, Burkina Faso and Ghana. The total exploration budget for Namibia in 2018 is $5.1m.
"Looking forward, the company will remain focused on continuing its impressive operational and financial performance from existing mines and continue with aggressive exploration and development programs to unlock the potential of its existing portfolio of properties," the company said in notes to its trading update.
The hope for B2Gold shareholders, however, is that Fekola starts to contribute meaningfully to cash as forecast previously by the company. It said in November that group-wise average cash flow from operations over the next three years from 2018 would be $500m. This is a function largely of the Fekola development.
Cash flow as of the first nine months of the 2017 financial year was $129.4m. More than half had been generated at the same point in the previous financial year, although $120m of last year's cash was from prepaid sales transactions.
Net income for the nine months ended September came in at $27.1m equal to $0.03/share compared to net income of $30.5m ($0.04/share) in the comparable period of 2016. Adjusted net income was $46.1m ($0.05/share) compared to $96.5m ($0.10/share) for 2016. The decrease in adjusted net income was mainly attributable to lower gold sales revenue and higher operating costs, the company said.