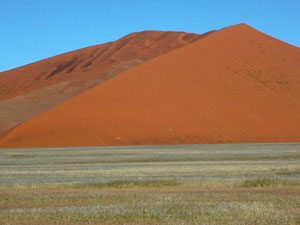 [miningmx.com] – UK-listed mining group Vedanta Resources said it had approved an in principle investment of $782m (R8.7bn) in the Gamsberg zinc deposit in South Africa's Northern Cape province with a view to producing first zinc during the group's 2017/18 financial year.
In terms of the proposed investment, Vedanta will establish an open pit mine producing 250,000 tonnes/year of zinc and a refinery at the site of Skorpion, a mine first developed by Anglo American, producing 150,000 tonne/year of zinc concentrate.
The Skorpion mine produced 13% less refined zinc, or 60,000 tonnes, in the first half of Vedanta's financial year.
"The detailed feasibility study for the mining project was placed at the board meeting,
while the work for setting up pilot plant for refinery conversion is underway," said Vedanta today as part of its interim results presentation. "Preliminary work on financing options have also been commenced," it said.
Vedanta has a positive view on the internationally traded zinc market saying in its interim results that it expected a supply deficit to remain in place until 2018.
London Metal Exchange zinc prices averaged $2,196 per tonne compared to $1,850/t in the same period in 2013, it said.
The Gamsberg deposit and Skorpion mine were sold to Vedanta in 2010 as part of a package of zinc assets for about $1.3bn by Anglo American, then led by Cynthia Carroll who had embarked on a wave of non-core asset sales.
The assets consisted of the Skorpion mine, the Lisheen mine in Ireland, and a 74% interest in Black Mountain Mining in South Africa, which holds 100% of the Black Mountain mine and the Gamsberg project.
Of the total consideration, $698m related to the Skorpion mine, $308m related to the Lisheen mine and $332m related to Anglo American's 74% interest in Black Mountain Mining.
"We intend to rapidly develop Gamsberg, one of the largest high quality zinc projects in the world, leveraging our world-class large project development expertise," said Anil Agarwal, chairman of Vedanta, at the time.
In his commentary to the interim results, in which Vedanta reported a 52% decline in interim share earnings of 9.4 US cents, Agarwal said the group planned to make the investment in the assets over three years.
"Gamsberg is one of the world's largest undeveloped zinc deposits, and zinc has attractive fundamentals as several large global mines reach the end of their lives," said Agarwal.
The Gamsberg deposit has been on the radar of mining companies for more than 40 years and was once picked over by the former mining house Gold Fields of South Africa (GFSA) in joint venture with Phelps Dodge before it was sold to Anglo American.
Anglo American 'sold' part of the Black Mountain deposit into Kumba Resources in the early days of South African empowerment with Exxaro Resources, created out of the demerger of Kumba Resources, ending up with a pre-empt over the assets which it did not subsequently exercise.