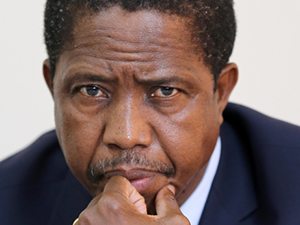 PRESSURE on shares in First Quantum Minerals would be lifted if Zambia's president, Edgar Lungu, asks his country's legal authorities to drop a fraud case against the miner.
"Were the case to be dropped, as instructed by the president, we believe investors would be able to focus on the core story," said Goldman Sachs of First Quantum's fortunes.
The emphasis would shift to the growth in production of First Quantum's Cobre Panama project, and falling group capital expenditure which would enable the company to start generating free cash flow, the bank said.
First Quantum said in April that it had achieved "steady progress" at the $5.48bn Cobre Panama project which is expected to yield 320,000 tonnes of copper a year at full tilt. This will take total production to 910,000/year by 2020 – more than Rio Tinto, the Anglo-Australian mining firm.
Bloomberg News said earlier today that Lungu had told Zambia's state investment firm, ZCCM Investments Holdings to drop a case in the Lusaka High Court where First Quantum is accused of fraud. ZCCM-IH is seeking as much as $1.4bn.
The Zambia government's legal claim related to alleged fraudulent loans made by Zambian unit Kansanshi Mining to First Quantum – an allegation First Quantum CEO, Philip Pascall described as "vexatious and untrue".
Bloomberg reported on May 9 that First Quantum had written to Zambia's attorney-general asking for criminal charges to be dropped against the company's directors.
"The instruction is firstly to reach an amicable settlement," Amos Chanda, Lungu's spokesman, told Bloomberg News today. "The settlement presupposes that the arbitration case in London will continue, but these other actions that have been started here in Lusaka, they have to stop," he said.
Shares in First Quantum were 2.34% higher on the Toronto Stock Exchange but remain about 42% down over the last three months. Goldman Sachs said it remained neutral on the stock owing to "… concerns that near-term copper prices could come under pressure as China continues to tighten".
First Quantum has clashed with the Zambian government in the past over a 7.5% levy on copper concentrate imports that it wanted to charge. The government has also withheld $243m from VAT returns from miners operating in the country including First Quantum.