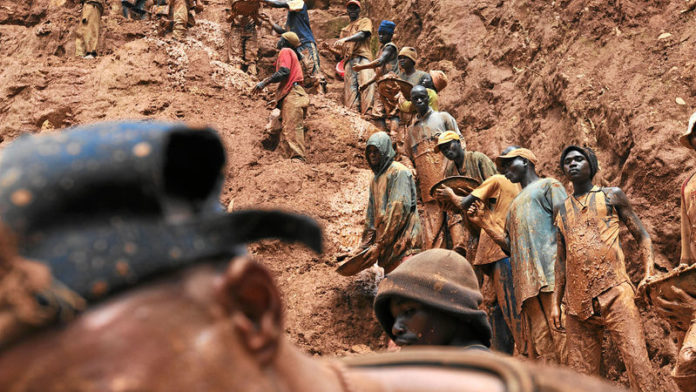 GLENCORE has asked the security forces of the Democratic Republic of Congo (DRC) to "exercise restraint" as it starts the delicate process of shutting down illegal mining at its Kamoto Copper Company (KCC) site.
Commenting in a statement to the Johannesburg Stock Exchange today, Glencore confirmed FARDC (Armed Forces of the Democratic Republic of Congo) were "in the area" of KCC's operations, adding that it wanted the DRC authorities to operate in line with human rights standards.
"KCC has communicated its expectations to the FARDC to exercise restraint and operate in accordance with Voluntary Principles on Security and Human Rights and international human rights standards," the group said. "This includes the principles relating to the use of proportionate force and provision of medical aid."
Reuters reported earlier today that security forces were removing illegal miners who had also taken steps to launch protest action outside the governor's office in the city of Kolwezi before being dispersed by security forces.
Another civil society activist in Kolwezi, who asked not to be named, said the Kasulo neighbourhood next to the mine was under siege by the police and army and that the protesters outside the governor's office were demanding a new concession to exploit.
It was reported on July 3 that tensions were rising in the KCC vicinity. Illegal miners inside the concession had continued to work undisturbed and some had thrown rocks at company vehicles. "The miners have come back in even larger numbers than usual," a KCC union official told Reuters.
Some clashes broke out on Monday between miners and police. At least two officers' weapons were seized at one point. One miner and one police officer were injured.
Last week, the army evicted thousands of miners from China Molybdenum's nearby Tenke Fungurume mine, said Reuters. Soldiers did not fire a single shot.
However, African Resources Watch, a watchdog based in the city of Lubumbashi, said in a statement that the army fired live rounds to disperse miners. It cited residents of the village of Kisanfu as saying three people died from gunshot wounds.
Some 43 miners died on June 27 at KCC following the collapse of the mining area in which they were working. Glencore said the collapsed galleries overlooking the extraction area in which the illegal miners were working were not linked to KCC operations or activities.
Glencore said in its statement that it prioritised "… the safety and security of our workforce and host communities". It added: "KCC will continue to engage with all the relevant stakeholders to collaborate on identifying and implementing a long-term, sustainable solution to illegal mining in the DRC".