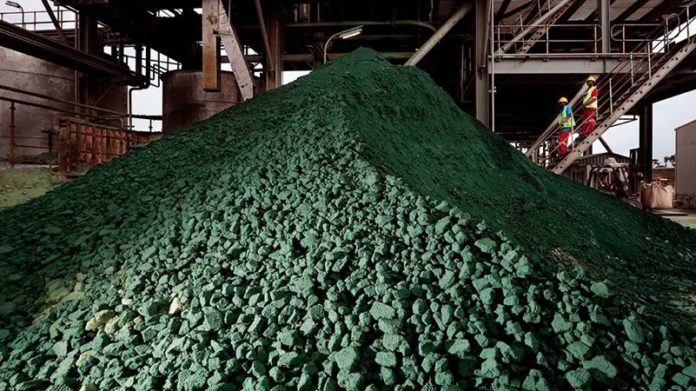 GLENCORE has extended a sales agreement with China's GEM Co. in which it will sell a minimum of 61,200 tons of cobalt between 2020 and 2024 – a development that has been construed as a sign the cobalt market had turned the corner.
The agreement would provide Glencore with "a stable outlet for a significant portion of its expected future cobalt production," the group said in an announcement today. It follows a cobalt sales agreement in May between Glencore and Umicore.
Glencore announced on August 7 that it would mothball its Mutanda mine in the Democratic Republic of Congo (DRC), partly on the back of depressed market conditions. The announcement led to a 30% increase in the price of cobalt.
Annual supply of cobalt is estimated to be about 120,000 tons a year including artisanal workings which is exported. Glencore's share of this market, including Mutanda production, is about 30,000 to 40,000 tons annually.
"The extension of our long established partnership with GEM further endorses Glencore's important role in supplying the materials that enable the energy and mobility transition," said Nico Paraskevas, Glencore's head of Marketing for Copper & Cobalt.
"This agreement represents a major cornerstone in GEM's cobalt sourcing strategy as it will support GEM's continued contribution to the Chinese new energy market," said Kaihua Xu, chairman of GEM in a statement.
"In an ever-changing and fast evolving cobalt environment, GEM and Glencore have managed to maintain a very strong working relationship," Xu said. "By securing a key battery raw material, GEM clearly demonstrates its ability to implement and deliver its vision for an electrified, carbon-free transportation system."
According to RBC Capital Markets, this latest sales agreement indicates the cobalt market was improving as such a contract would not be signed in a surplus.
Some 61,200 tons over five years would equate to 12,240 tons of cobalt per year or about a quarter of Glencore's expected group output, now mainly coming from the Katanga mine in the DRC. "This further reduces the available and non-artisanal mined cobalt available for Western automobile makers," said Tyler Broda, the bank's analyst.
VOLATILE PRICE
The rise of electric cars propelled cobalt to its highest level in 10 years of $44 per pound in April last year before crashing to $12/lb following a surge in supply and stockpiling by companies in the battery supply chain, where cobalt is used.
A consequence of the decline in cobalt prices for Glencore was that the firm's marketing division held on to material it might otherwise have sold.
This resulted in a mark-to-market non-cash loss of $350m without which the firm's marketing division's adjusted earnings before interest and tax (EBIT) would have been only 13% lower year-on-year versus the actual 35% decline.
Commenting on Glencore's decision to mothball Mutanda, as well as embark on a business renewal of its other African base metal assets, RBC Capital Markets commented: "We view this move as a positive for the shares as this will reduce volatile DRC exposure from 2020 and will reduce the capex burden leaving free cash flow (FCF) higher despite the lost production".
It said today that: "We continue to see potential tension in the ability for Western producers to secure adequate cobalt as a potential positive medium-term dynamic for the metal". Cobalt prices have recovered to $15.40/lb from the $12/lb low in July.