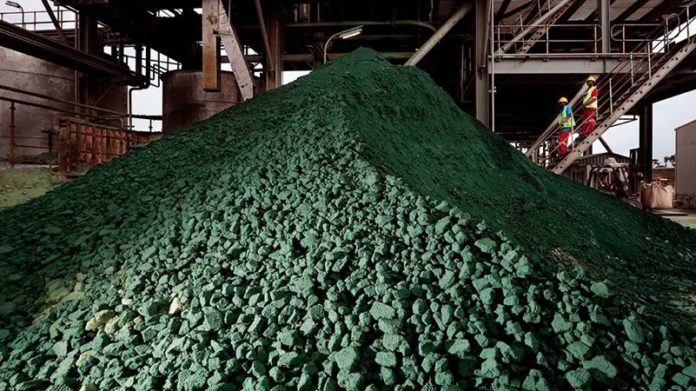 JUBILEE Metals is to raise £30m in a share issue aimed at financing the consolidation and expansion of its Zambia copper and cobalt retreatment operations.
The UK-listed firm said in an announcement today that it would issue shares for 16.03 pence a share representing a slight premium to its current price of 16.5p/share. Shares in the company weakened just under 2% after the announcement.
Jubilee Metals said today it would increase its ownership of its so-called 'Southern Refining Strategy' encompassing annual production capacity of 24,000 tons a year of copper and cobalt at the Sable refinery and Project Roan – an asset in which it had a 80% stake. The company hopes to commission a new concentrator at Roan by November.
In addition, it would increase its ownership of Project Elephant's TD52 portion to 80.75% representing its 'Northern Refining Strategy' near Kitwe which represents the firm's brownfields expansion ambitions through the construction of two concentrators. An additional transaction would be to take its ownership in the Mufulira Project to 97%.
All in all, Jubilee has targeted production of 25,000 tons of copper a year from Zambia, according to its website.
The combined value of these investments will total £17.83m and will enable Jubilee to "better schedule the development of the various tailings projects", the company said.
"As a result of the transactions, Jubilee now has greater control over the development of its tailings projects in Zambia and therefore the sequence and rate of development of both its Northern and Southern refinery strategies," it added.
"Our Southern Refining Strategy is now fully owned by Jubilee capturing 100% of the earnings potential and allowing us the complete flexibility to better integrate Project Roan with the refining capability at Sable Refinery," said Leon Coetzer, CEO of Jubilee Metals.
"We are now able to increase the copper sulphide section of our refinery to fully absorb this portion of Project Roan's production that previously was allocated to be sold as a high grade concentrate under the terms of the joint venture while only the copper oxide was targeted to be fully refined to copper cathode.
"In short succession of our recent addition of a refining presence in the North, we will also expand our cobalt refining capability as part of the development of the cobalt solution for Project Elephant offering significant potential for our Northern Refining project," he said.