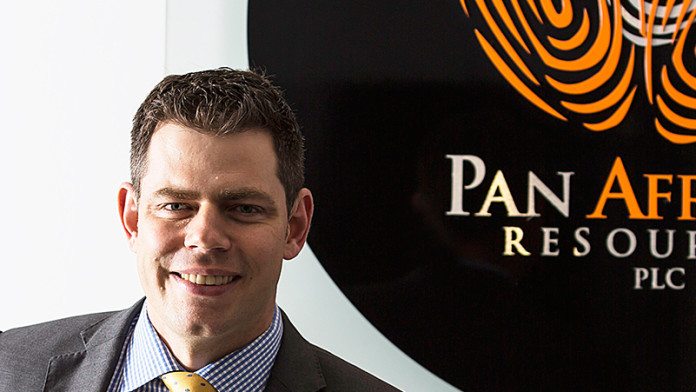 PAN African Resources, a South African gold producer, is to pay a record final dividend and plans to unveil a share buy-back programme following a strong showing for the 12 months ended June.
Cobus Loots, CEO of Pan African, said the numbers represented "… major positive strides" in the firm's strategy which also includes growing production through organic expansion of its Evander and Barberton Mines assets in Mpumalanga province.
Full year share earnings were 3.78 US cents a share, an increase year on year of 69%, achieved on the back of strong production – the company's second highest for a year – and a 14% increase in the rand gold price to R903,849 per kilogram.
Net cash generated by operating activities increased by 52.8% to $82.2m and enabled the company to reduce net debt 45.6% to $33.7m –  a development that bodes well for Pan African's plans to fund expansion from internal sources.
As a result of the performance, the company has recommended paying a R402.2m dividend equal to 18 South African cents per share or $28.3m (1.27 US cents per share). This compares to a dividend in 2020 of $17.8m and $2.9m the year before. Pan African pays out the dividend in December following board approval in November.
Production for the current 2022 financial year has been guided to 195,000 ounces which compares to 201,777 oz in 2021 – Pan African's second highest production year. The lift in output for the year in review was owing to increased flexibility at Barberton Mines as well as a ramp up in production at the Evander 8 shaft pillar mining project.
Pan African is pushing for a major boost in production from capital projects in the next three to five years principally from the Egoli venture, an extension of Evander Gold and the recently scoped Mintails retreatment project that could produce 533,000 oz of gold over a 12-year period. This project has been progressed to a prefeasibility study.
There were some headwinds during the 12 months ended June. All in sustaining costs (AISC) increased 9.9% to $1,261/oz partly owing to above-inflation increases in the Eskom electricity tariff and a $7.2m realised hedge loss.
Excluding the higher cost Evander operations, Pan African delivered AISC of $1,151/oz from its Barberton underground and the dumps retreatment assets Elikhulu at Evander and the Barberton Tailings Retreatment Plant which account for 75% of total production.