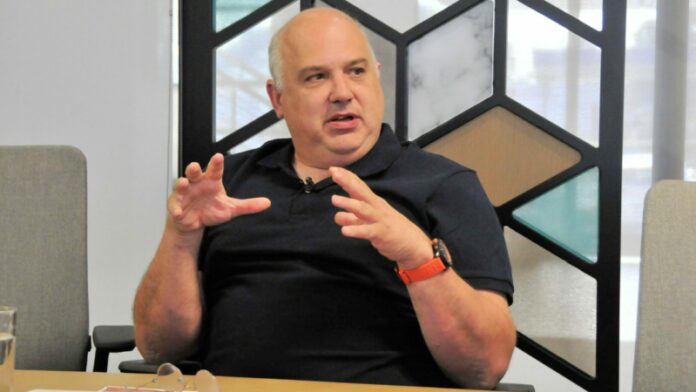 COPPER 360's strategy was to build its copper operations in the Northern Cape and mine them itself to take the profit margins on offer because the "numbers are scary in terms of what we can make."
That's the assessment of Jan Nelson, CEO of junior miner Copper 360 which listed today on the Johannesburg Stock Exchange's Alt-X Board after raising R152m through a private placing at 400c a share.   The stock went as high as 600c in early trading.
"Sure, if Anglo American walked in tomorrow and offered us 100 times more for the company than what it is worth, we would be stupid not to sell. But, at this stage in terms of where we are in the cycle of value unlock, there is no way we would sell.
"We have already had an offer from a mid-tier company in South Africa but it's too early for that.  Our strategy is to develop it ourselves and take the low-hanging fruit – (ore reserves) that are there pre-developed and on surface. "
The controlling shareholder in Copper 360 is Northern Cape mining entrepreneur Shirley Hayes who spent 14 years putting together the package of 19,200ha of mineral rights north of Springbok over which she was granted a mining licence last year.
Hayes commented, "we are sitting with a strategic metal on the brink of an electrical revolution.  We would be mad to let it go.  I am in this for the long run."
She added, "we have the opportunity here to change the legacy of mining in South Africa and do things differently to influence generations to come.  It is a privilege to be in that position and it would be very difficult to let go to a major company because they might not have the same values as us."
Nelson commented, "the founding partners and the board of directors have decided we will not develop this project in a way so that we make a lot of money at the expense of the communities around us.
"We are going to try and make as much money as we can, but we are capitalists with a conscience. We will make sure the communities prosper equally to the way we prosper because we think that is the right thing to do.
"As a company we have the ability to do that and, with all due respect, I don't think the major mining companies get that. "
Asked to clarify that viewpoint Nelson replied, "the cost of the sustainability report that a major company publishes probably amounts to more than the money they spend on the community.
"Look at the revenue they generate and the money they put into the community. Sure, it's a big number – usually R500m to a billion rand –   but it's not more than 2% or 3% of what they make. That's not a real commitment surely?
"In wage negotiations every year we can't give people a sustainable increase in salary so they can have a living wage but the CEO of major company that screws that company up gets a pay out of R150m.   That's unacceptable.
"I think some of the juniors are doing more regarding this than the majors and the majors need to start looking at the juniors here.  That's because the juniors are closer to the communities and more involved with them because we are small, and our livelihoods are more dependent on the communities.
"There's a major whose name I won't mention.  Most of their money is made here but they complain about South Africa and their commitment to the communities is missing."
Nelson quipped that, "this is why they won't let me join the Minerals Council" but added he did not intend joining the Minerals Council because "their voice is the voice of the major companies and I am a junior. I do not want to be part of that club."
The Minerals Council responded by saying half of its nearly 80 members were junior miners, emerging miners and exploration companies. "If we included the mines represented by our three member associations, which largely represent junior mining companies, the Minerals Council represents well in excess of 500 mines belonging to small-scale operators," said Allan Seccombe, spokesman for the council.