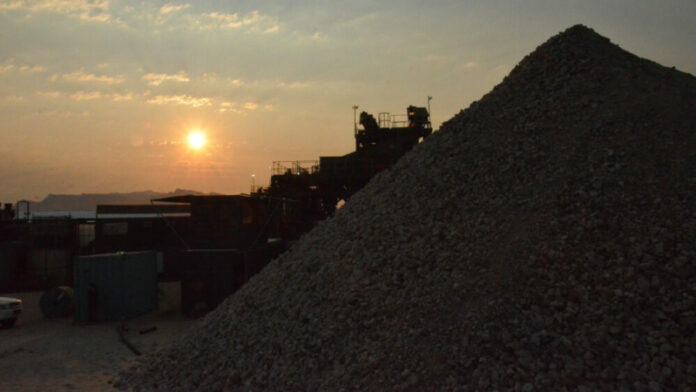 ANDRADA Mining CEO Anthony Viljoen said his company was shooting for an asset-level joint venture as it sought to fasttrack lithium production.
The AIM-listed firm said on May 11 it was considering taking on a strategic partner to accelerate the development of its Uis mine in Namibia. This was after receiving up to 15 unsolicited approaches from co-investors. "The interest has been unprecedented," Viljoen told Miningmx in an interview today.
Formerly owned by South African steelmaker Iscor, Uis was redeveloped by Andrada in order to produce tin, a metal critical to the production of circuitry. However, Viljoen said his company subsequently realised the Uis orebody contained petalite, a lithium mineral.
As a result, the company wants to accelerate the expansion of Uis to about 1,500 tons of finished metal up to a medium term target of 2,500 tons in metal.
Capital of $440m has been estimated for this expansion although Viljoen indicated today that expanded output could be lower. For now, the priority was finding a partner.
"We don't want to sell shares but we are looking at a number of options including a joint venture at the asset level and offtake related finance," Viljoen said. "We are looking for a partner that can take us further downstream."
A finished lithium product from petalite is lower grade than spodumene, another lithium  source element. However, petalite has no iron contamination which opens up markets in the ceramics and glass industries.
Viljoen said he hoped to sign an agreement with a strategic partner by September. Barclays Bank is Andrada's advisor on the deal.
Lithium, which is critical in the manufacture of electric vehicle batteries (BEVs), is the world's third most common element. But production of the mineral in grades the automotive market can use is not abundant.
According to SFA Oxford, a metals research company that Sibanye-Stillwater owns, demand is expected to grow nearly 25% every year from now until 2026 by which time some 944,000 tons of demand will come from BEVs alone.
Elon Musk, CEO of Tesla, urged more entrants to the mining sector saying that producing lithium for use in battery electric vehicles was a license to "mint" money.
Viljoen said Volkswagen and Mercedes had expressed an interest in "wanting to play" a role in the lithium supply chain. The mineral also demonstrated a degree of price counter-cyclicality with tin, he said.
Andrada was also considering a dual listing of its shares in New York. "We are looking at over-the-counter trade as a stepping stone," said Viljoen. "The share register is tightly owned and New York OTC trade is less stringent for us."
Shares in the company gained 3% in London today at 5.88 pence per share, significantly higher than the 12-month low of 3.6p/share in late March.