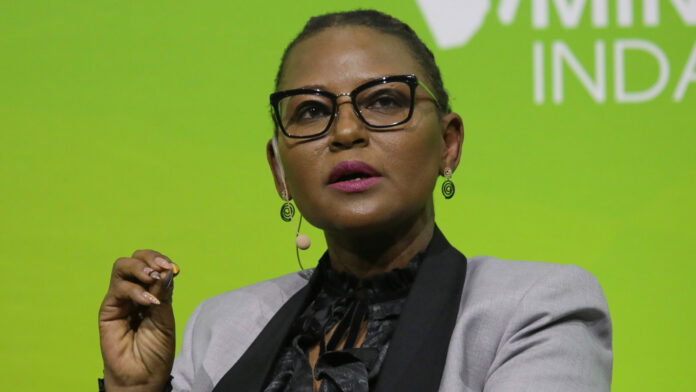 TIME is as scarce a resource as rail for Exxaro CEO Nombasa Tsengwa.
Speaking at the Joburg Indaba, Tsengwa said Exxaro once believed it had as many as 20 to 30 years to diversify the thermal coal business. Alas, the blossoming crisis at Transnet has put paid to that now frail hope.
Despite private sector intervention since January, Transnet Freight Rail (TFR), Transnet's largest division by revenue, has not improved the rate of coal deliveries to Richards Bay, which is at an annualised 42 million tons (Mt). Tsengwa estimates Exxaro's exports will not exceed 4.5Mt this year, well below the 12Mt of which it is capable.
TFR's performance last year was particularly disastrous because export thermal coal prices were at cyclical highs. The coal price has since cooled, but the opportunity cost at a spot price of $100/t is still nearly R20bn in 2023. Elsewhere, TFR's lacklustre performance — which it continues to blame on a shortage of locomotive spare parts — is costing jobs.
Swiss-headquartered multinational Glencore and Seriti Resources, a private company, have announced plans to cut just more than 800 jobs at coal mines because TFR's export volumes have still not improved. Tsengwa says Exxaro is partially protected owing to domestic supply contracts with Eskom's coal-fired power stations. The export coal price would have to slip to $60/t before Exxaro would consider job cuts, she says. Even when power stations failed, petrochemicals giant Sasol stepped in as a client.
Despite this, the clock is ticking on two diversification strategies announced by Exxaro. One is the move into renewables. Cennergi, a subsidiary, generates 229MW in renewables. There are plans to increase this to 1.6GW by 2030 via a capital programme. The other is buying cash-generating assets in battery minerals — initially Exxaro targeted copper, vanadium and manganese — an ambition unveiled two years ago by Tsengwa's predecessor but which is yet to bear fruit. Both strategies are fraught with danger for Tsengwa.
Mining is a high capital cost business whereas renewable investing carries a low capital cost and, in theory, lower returns. Analysts at Bank of America recognise that companies such as Exxaro have no choice but to turn to self-generation in an effort to contain energy inflation. But the bank argues that producing power to sell back to the grid is a different proposition. "We remain unconvinced that 'pivoting' to develop large-scale energy projects is the best use of mining capital," its analysts say.
I will try my best not to do a deal for the sake of ticking a box. We are looking at it in a very prudent manner and we are not just doing a deal. But there could be an acquisition by next year – Nombasa Tsengwa.
Tsengwa acknowledges the risk but replies that Exxaro wants to get into the "higher end of the value chain" by becoming involved in distribution and providing services, not just selling electrons. As pointed out by Bank of America, renewable energy financing is readily available and relatively cheap, and reduces the requirement for cash or equity financing. Protecting the balance sheet is a critical concern, especially given Exxaro's second strategy of battery mineral acquisitions.
Exxaro has set aside R12bn-R15bn in cash for deals, much of it generated while the thermal coal price soared last year. Shareholders therefore worry that if the cash isn't going to be distributed, it won't be used propitiously. "We expect capital allocation concerns will continue to weigh on the equity," said RMB Morgan Stanley in a report. The cash sum set aside is larger than the market expected, the bank says, adding: "It appears to us that the concern is that debt and equity markets might not be open should an acquisition be found."
Tsengwa acknowledges it's been tough finding an acquisition, especially in copper. Exxaro is competing for assets in a market of forecast supply deficits. It has also entered the ring where redoubtable competitors stalk, such as BHP, the world's largest miner, and Rio Tinto. They are equally hungry for copper, but both operate in strong currency jurisdictions and have balance sheets that dwarf Exxaro's. It's therefore no surprise that after nearly two years, Exxaro is still searching for its first deal.
"We will be picking up opportunities but we have to stay within the realms of investing," Tsengwa says. "The board hasn't given us an open ticket."
Search for minerals
In response, Exxaro has expanded its deal criteria to involve other minerals while acknowledging some remain off the radar, such as bauxite where most of the industry is vertically integrated. Second, Exxaro is prepared to buy tier 2 assets, though Tsengwa observes that they, too, demand a premium. Third, Exxaro has hired Richard Lilleike, previously executive director of Standard Chartered mergers & acquisitions in Joburg. "He comes with a serious wealth of information," says Tsengwa.
"I will try my best not to do a deal for the sake of ticking a box. We are looking at it in a very prudent manner and we are not just doing a deal. But there could be an acquisition by next year."
It's worth remembering this is Exxaro's third attempt at diversification. In 2014, it wrote down an iron ore project in the Republic of Congo for R5.4bn after earlier attempting to build out a ferrous division to complement its 20% shareholding in Sishen Iron Ore Co, which it still owns. Shareholders urged the company to stick to coal.
That directive was ignored again in 2018 when former CEO Mxolisi Mgojo spooked investors after setting out plans to invest in food and water security. It was a puzzling, unheralded switch in focus that saw shares in the company plummet. Mgojo later clarified the scale of investment would be modest, but in the end Exxaro abandoned the move.
Familiar troubles
At the time, Mgojo worried about coal in a world where investors were fleeing the commodity. Since Russia's invasion of Ukraine, however, coal has rediscovered its voice. The other major change for Tsengwa is the rate of deterioration at Transnet, thrown into stark relief last week by the resignation of its three most important executives: CEO Portia Derby, CFO Nonkululeko Dlamini and TFR CEO Siza Mzimela.
While competent management can only help Transnet in the long run, the short-term direction of the company is tougher to discern. Not least because of an occluding interplay between private sector interests and the government, buffeted by the National Treasury and unions.
Tsengwa says the private sector would prefer the government to enable concessioning of the key rail corridors, but it's clear from the national rail policy this isn't on the cards. The government's recommendation for a regulator is troubled by questions of independence.
Then there are the uncertain outcomes of the freight logistics roadmap, a creation of the National Logistics Crisis Committee. Collaboration is desired, says Tsengwa, but no-one knows exactly how this will happen. "For us it's still not clear. We understand the new rail policy but we don't have an idea on how we talk to each other. There is a lot of work for us to do insofar as positioning ourselves so we understand how to benefit," she says.
The stakes couldn't be higher for companies such as Exxaro. About 90% of R7.6bn in its first-half earnings before interest, tax, depreciation and amortisation came from coal production. For all its diversification strategies, Exxaro needs coal to thrive.