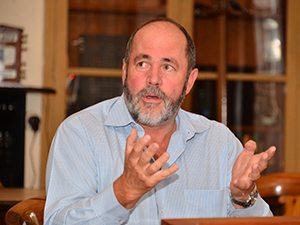 [miningmx.com] – WITH a stroke of the pen in the late evening of November 30, De Beers executive, Phillip Barton, brought an end to more than a century of diamond mining in Kimberley.
The diamond group's South African subsidiary, De Beers Consolidated Mines (DBCM), will still operate the museum near the 'big hole', the asteroid-size crater dug by thousands of miners from as early as 1871, and De Beers Sightholder Services, a company from which local firms buy and cut diamonds.
But Kimberley Mines, including its tailings dams, has been sold.
DBCM now has no mining operation in Kimberley with the baton passing over to a joint venture consisting of Kimberley-based Ikapa Mining and Petra Diamonds, the UK-based diamond miner founded by the Pouroulis family.
Sentiment aside, the reasons are wholly economic.
"We need to match ourselves with assets that we are good at," said Barton in an interview with Miningmx. "We are good at large, bulk mining. The second aspect is capital," he added. "With the Venetia underground project taking up $2bn to build we have to work within that capital constraint. We've done this at the right time."
What's good for De Beers is also good for its 85% shareholder, Anglo American. De Beers contributed roughly 42% of Anglo's full-year earnings in the year ended February and whilst that performance is unlikely to be repeated again this year, De Beers is an important cog especially while other commodities continue to under-perform.
Barton reckoned that diamond prices were likely to recover quicker than some of the minerals to which Anglo was also exposed such as copper, iron ore, and platinum group metals. "You have to manage the short-term market, but in the long-term the fundamentals for diamonds are good," he said.
That's why it makes sense to dispose of Kimberley Mines especially as in Venetia, the group has enough future production to keep output at between 4.5 million and five million carats for the next 20 years.
Analysts worry about De Beers though. It is key to Anglo's fortunes, said Goldman Sachs in a recent report. Anglo has twice cut its diamond sales guidance this year as prices have deteriorated making investors increasingly cautious on Anglo American, it said.
"We believe any clarity on strategy and the outlook for diamonds will go a long way to assuaging investors' concerns about Anglo's balance sheet," the bank said.
Said Barton: "After 27 years in the diamond market I know it's important to take the necessary precautions and make sure we're on the right side of the cost side.
"The expectation is that the market will bottom out sooner than other commodities. But the focus is really on long-term fundamentals."
Analysts have in the past mused about how assets sold by De Beers continue to thrive, perhaps suggesting the group's interest in selling diamonds is motivated by re-balancing its political exposure in South Africa.
Barton doesn't believe this is a factor. Even with the government-owned State Diamond Trader (SDT) insisting that more diamonds ought to be sold to it in order to improve the downstream cutting and polishing industry.
Critics of the trader say the SDT's problems are all of its own making: it is inefficient and so bureaucratic that it is the major reason diamond cutting businesses in South Africa have shrunk to 350 from mover 4,000 some 20 years ago.
Barton believed all market participants have to make a contribution. "I can say absolutely that our decision to sell assets in DBCM was not political.
"We are committed to SA which is why we're spending $2bn here. But the introspection should start with everyone: what is it we can do that more of to assist downstream beneficiation?," he said.
Asked if he would support increasing the proportion of South African diamond production to the SDT, Barton replied: "We need to look at ways in terms of De Beers' overall distribution model, and what we can do. If that is a possibility, we will do it."