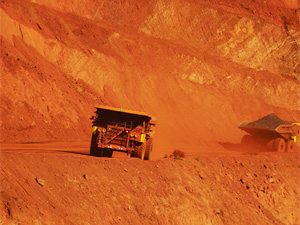 [miningmx.com] – A condition concerning the domestic supply of iron ore is one of the key sticking points holding up the granting of the residual 21.4% undivided share of the mining right to the Sishen Iron Ore mine to Kumba Iron Ore (Kumba).
That's according to the latest update from Kumba on the situation over which the group has now launched an internal appeal to the Minister of Mineral Resources while continuing to engage with the Minister "in order to achieve a mutually beneficial solution.'
Kumba announced on November 3 that the Department of Mineral Resources (DMR) had consented to the amendment of the Sishen iron ore mining rights but subject to a number of conditions which were described by the DMR as "proposals.'
At the time, Kumba spokesperson Nikki Wetzlar declined to provide further details on the conditions commenting that, "we cannot disclose them because we are still considering the meaning and scope of the proposals.'
Today's update from Kumba states that, " the conditions contained in the letter of grant relate substantively to domestic supply, support for skills development, research and development and procurement."
The Kumba statement added that, "until the legal and practical implications of the proposed conditions have been clarified with the DMR, SIOC (Sishen Iron Ore Company) is unable to accept the conditions.'
The Constitutional Court ruled in favour of Kumba and against the DMR on December 12, 2013 regarding the allocation of the residual 21.4% mining right in Sishen which was originally owned by Arcelor Mittal SA.
Areclor Mittal failed to apply to convert its old order mining right into a new order mining right when the Minerals and Petroleum Resources Development Act was implemented in May 2005.
The DMR then allocated the right to Imperial Crown Trading (ICT) through a process which Kumba described as fraudulent and challenged in court triggering a legal battle with broader implications which were potentially highly negative for South Africa's investment image.
Kumba won its actions in the High and Supreme courts but the DMR/ICT took the matter to the Supreme Court of Appeal and, eventually, the Constitutional Court both of which also ruled in favour of Kumba.