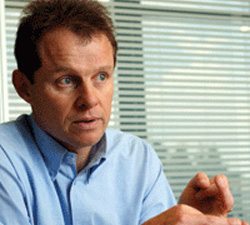 [miningmx.com] – JAMES Campbell, CEO of Rockwell Diamonds, acknowledged his two-and-a-half years in charge of the company had been a grind, but he's making progress.
When he arrived, Rockwell Diamonds was barely sufficiently capitalised, and was suffering the effects of loss-making mines. Its empowerment partner, African Vanguard Resources (AVR) also wanted out.
The restructuring that was to follow hurt the share price further. When Campbell started in June 2011, shares in Rockwell were about R4/share, having slipped from a height of R12.50/share in 2009. The company remained under pressure throughout 2012, its shares nearly halving in value again.
Operationally, the key for Campbell was to weed out the unprofitable operations, and refit others. As efficiencies improved so did cash flow, but it was a period of living one month to the next, carefully managing cash flow, says Campbell.
The development of the company's Saxendrift Hill mine was a crucial development, while getting a start on mine at Niewejaarskraal, following the upgrade of the previously mothballed plant there, was another. The outcome has been a positive turnaround but there are still challenges. Shares in the firm were down 8% yesterday.
On a one-year return basis, however, shares in Rockwell are 53% higher and may recover further if Campbell makes good on promises to produce a profit in the new financial year.
A new empowerment partner – the identity of which is currently undisclosed – has also been finalised, handily bolstering the balance sheet with a R17.3m upfront payment. The balance of the R72.6m empowerment deal is being vendor-financed. "It's a big boost to the balance sheet; it allows us the opportunity to start something new in the business,' said Campbell.
The other financing option is equity. Throughout the restructuring, Campbell couldn't really use equity finance to fund the recovery, especially as long-standing shareholders had seen an enormous loss of value.
That may well have changed. "There's an opportunity for a larger facility at Wouterspan and we may need some equity financing for that,' said Campbell. Niewejaarskraal could be expanded more aggressively as well.
"I'm still cautious of long lead times and expensive acquisitions,' he said. Although the likelihood is for brownfields expansion, Campbell doesn't discount looking further afield in Lesotho, Botswana or other neighbouring states such as Namibia and Swaziland.
The company's principle business is to sift alluvial gravels in "its homeland', the Middle Orange River in South Africa's Northern Cape province, for diamonds.
Having invested in its processing facilities, the company is starting to find larger stones such as the 287 carat "rock', a white diamond, found in November. It was only the second time in eight years the company has recovered a rough diamond over 200 carats, but the revenue flow provides a big boost to the company.
Rockwell Diamonds is due to report third quarter operational figures at the close of trade in Toronto (January 9) and announce them to the JSE on January 10.