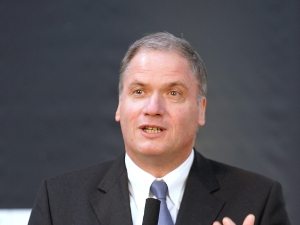 [miningmx.com] – CHINA may comprise a quarter of world diamond sales in a decade, said Philippe Mellier, CEO of De Beers. If his forecast materialises, China would challenge the US as one of the largest markets for gems.
"China could grow to 20% to 25% of the market; the same for India. The US would fall to about 30% of the market,' said Mellier in an interview.
China consumes 10% of total world retail sales. Although not a mature market, Mellier said that combined with sales to India, the two regions may be influential enough to help lift De Beers' total sales in the current 2013 financial year.
Mellier said De Beers had made significant advances in diamond sales in China selling a diamond as an integral part of wedding jewellery. Diamonds are traditionally bought to celebrate engagements in the West.
"China has historically been a region driven by gold and jade, but it is also a society of symbols. They have bought the idea of love [represented by a diamond] and it's also a status symbol. The Chinese don't like the idea of storing something at home; they like to to be able to show it,' said Mellier.
Commenting on sales in De Beers' current financial year, Mellier said there could be an improvement. "There is an opportunity to sell more diamonds, and there is an opportunity to increase prices. But we are not talking huge numbers". In any event, he didn't think volatility was good for the diamond market.
Asked if it was likely that De Beers would ever be relisted again, Mellier said: "You would have to ask the shareholder'. Anglo American has an 85% stake in De Beers after it bought out the 40% stake owned by the Oppenheimer family last year for about $5.2bn.
Outgoing Anglo CEO, Cynthia Carroll, has consistently denied De Beers would be relisted, but it has been speculated that incoming Anglo American CEO, Mark Cutifani, may look differently at De Beers and take it public.
The discovery of a large diamond mine, perhaps in Angola where De Beers has said it will continue to explore, could be a catalyst to a listing, analysts have said. But Mellier is doubtful. "We were able to win support to expand Venetia [without listing],' said Mellier.
De Beers said earlier this year it had approved a R20bn project to build an underground diamond mine that would extend the life of Venetia in South Africa's Limpopo province to 2042.
The expanded Venetia would yield 96 million carats.
De Beers sold $5.5bn of uncut diamonds for its 2012 financial year – a 15% drop year-on-year. Core earnings fell 39% to $1.08bn.Production dropped 11% to 27.9 million carats and De Beers said it planned no increase this year.
Changes were made to the article adjusting De Beers' rough diamond sales to $5.5bn and De Beers' acquisition price of Anglo's stake to $7bn.