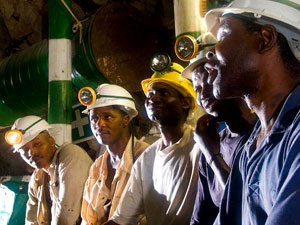 [miningmx.com] – AN eight-point proposal from Exxaro Resources, including an offer to pay a quarterly bonus early, was rejected by the National Union of Mineworkers (NUM) whose members took strike activity at the firm's coal mines into its third week today.
The strikes, which relate to unpaid bonuses, began at Exxaro's Arnot and Matla mines on March 5 and spread to the Grootegeluk, Leeuwpan, Inyanda mines, as well as Exxaro's reductants operations, within days.
Exxaro contends that it will not pay bonuses which date from last year to workers because they did not fulfil the productivity criteria. For its part, NUM has said it did not initiate the strike but having taken up the cudgels for workers, believed a one-off 'across-the-board' payment would settle the matter.
Said Exxaro: "As the striking employees did not achieve performance targets which would have entitled them to an incentive payment, the group is not prepared to reward these employees with additional payments".
It countered with an offer to pay workers their first quarter incentive bonus, equal to 2% of their salaries or some R2,000 per employee. The offer was rejected by the NUM.
Exxaro said in a statement today that it would apply to the Labour Court for an urgent interdict forcing workers back to their posts. This was preferable to an ultimatum, to which it is entitled in labour law, but would result in mass retrenchments. A decision on the interdict is expected later today.
Meanwhile, Eskom's coal requirements will be met from stockpiles at the various mines, although it's unclear the extent to which access to the stockpiles is possible given the violent nature of the strike activity.
"Production at the affected operations has stopped. At this stage, mines supplying coal to Eskom power stations have contingency plans to maintain the functionality of their respective power stations," said Exxaro in a statement.
"Exxaro continues to work closely with Eskom to ensure the availability of coal supply and currently there are adequate levels of supply available," it said.