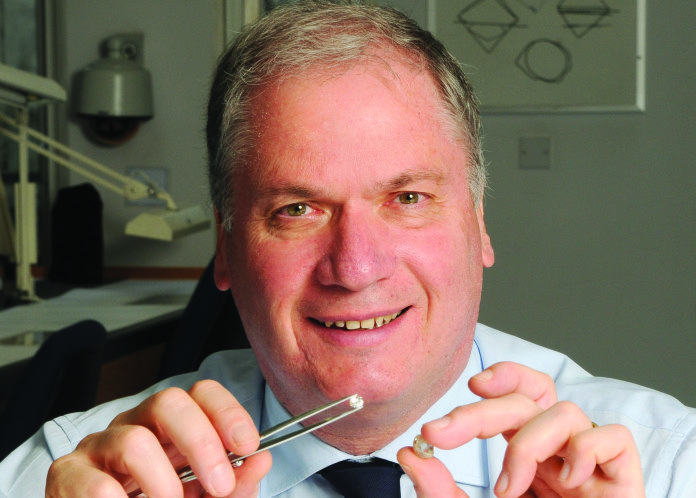 DE BEERS' rough diamond sales totalled $660m in the third cycle of 2016 reflecting a "reasonably positive trend", said Philippe Mellier, CEO of the diamond group in which Anglo American has an 85% stake.
"So far, 2016 has seen significantly stronger rough diamond demand than that experienced at the end of 2015 as the actions taken by the industry continue to have a positive effect," said Mellier in a statement to the Johannesburg Stock Exchange.
"However, we are now moving into a part of the year where rough diamond demand has historically been lower as a result of seasonality, so we continue to adopt a prudent mind-set," he added.
Continued stability in polished diamond prices and sales of polished diamonds at the wholesale level supported a reasonably positive environment for rough diamond demand for the third consecutive sales cycle, said Anglo American.
Sales in the second cycle of the year were $617m. The third cycle represents provisional sales value as of April 11. Auction sales in a given cycle are the sum of all sales between the end of the preceding cycle and the end of the noted cycle, the group said.
"An encouraging result, particularly if the speculated 2% price increase was also implemented at the auction," said Investec Securities in a morning report.
"We wait to see how the market progresses as seasonal demand wanes and hope that major deferrals are not a feature as they were last year, nor is there a need to cut prices, as action by major producers ensures a stable market," it added.
Said Macquarie: "While this was a good number and will no doubt be taken positively by the market, the release contained softer commentary.
"Given this, and the fact that it is unlikely that the strong rough sales we have seen year to date have meaningfully reduced the midstream inventory issue alluded to late last year, we remain fairly cautious on the sector".
Mellier said in December that the diamond market was suffering the effects of a lag in the pipeline that only time would remedy.
De Beers contributed roughly 42% of Anglo's full-year earnings in the year ended February 2015, and whilst that performance was unlikely to be repeated again this year, De Beers is an important cog especially while other commodities to which Anglo is exposed continue to underperform.
Head of De Beers Consolidated Mines, Philip Barton, told Miningmx in December that diamond prices were likely to recover quicker than some of the minerals to which Anglo was also exposed such as copper, iron ore, and platinum group metals. "You have to manage the short-term market, but in the long-term the fundamentals for diamonds are good," he said.
Paul Loudon, CEO of DiamondCorp, a UK listed firm developing the Lace mine in South Africa's Free State province said that supply management by the major producers had resulted in shortages of certain size categories. This had resulted in improved buying interest and prices since December, particularly for smaller goods, he said.
He added however, that these improved market conditions "are not expected to be sustained".