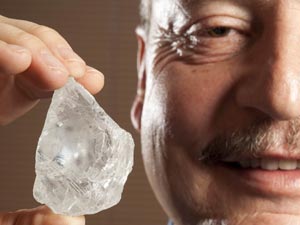 SHARES in Petra Diamonds fell nearly 12% despite CEO Johan Dippenaar's generally bullish appraisal of the diamond market over the medium term and an announcement that the UK-listed firm's key bankers had relaxed lending restrictions.
Petra Diamonds was last trading at 114 pence per share, a decline of 11.8% over the previous day valuing the company at £610m. Some 3.9 million shares had traded hands, equal to just less than one percent of shares in issue. The year-to-date improvement in Petra shares is some 30%.
Dippenaar said there were grounds to be "cautiously optimistic" about future pricing for diamonds as Chinese buyers had been conservative lately whilst reforms in India may support economic growth. The US market was stable, he said.
"It is quite difficult to hold back and not have a positive feeling," said Dippenaar. "But it's in order to remain cautious," he added. "We prefer to err on the side of caution." Petra would use prices achieved in the first three months of this calendar year for budgeting purposes for the remainder of its financial year which closes June 30.
Petra unveiled a 26% improvement in production in the third quarter (year-on-year) recovering 995,905 carats (Q3 2015: 791,443 carats) owing to the contribution from Kimberley tailings operations bought as part of Kimberley Mines in January from De Beers.
Petra is to conclude a joint venture with Ikapa Minerals, which was the lead member of the consortium that bought Kimberley Mines, during the remainder of its financial year. The joint venture will seek to cut costs, and extend the life of mine of Kimberley Mines by marrying Petra's underground Kimberley operations with the surface assets.
Full year production expectations had been increased – up to 3.6 million carats owing to Kimberley tailings contribution – while the 2019 target output was maintained at about 5 million carats, said Dippenaar.
However, there was pressure on third quarter revenue which came in at $120m but was 12% lower than BMO Nesbitt Burns had expected. This was owing to a 14% lower-than-forecast diamond price which was related to the variable mix of diamond quality recovered from the Cullinan and Koffiefontein mines, the brokerage said.
Lower grade guidance from the Cullinan mine had also affected investors short-term outlook on shares in Petra, said another analyst in an e-mailed response.
Despite the likely negative impact on full-year earnings BMO said it remained bullish on Petra. "We expect Petra's share price and valuation multiples to improve as production from the new caves ramps up and the company passes through the peak funding period," it said in a morning note.
Capital expenditure of about R3.5bn to R3.7bn this year was expected to fall to about $2bn in the 2017 financial year of which most would be spent in the first half of the year, Dippenaar said. He also spoke of "ever-reducing" capex as most of the firm's expansion plans were completed.
In the meantime, Petra won a relaxation in EBITDA-related covenants on its debt which Petra finance director, David Abery, said was by dint of its "exceptional relationship with our lender group".
He added the balance sheet was in "good shape". Petra has net debt of $395.6m but expects to get through the peak funding period with 'headroom' of between $70m to $100m.
"Although we anticipated a renegotiating of the debt covenants, renegotiating the debt may remove an overhang from the stock," said BMO in its note.