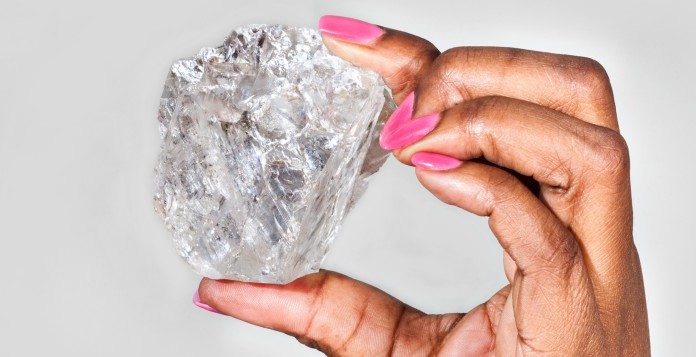 LUCARA Diamond, emboldened by the prospect of two tenders in the last quarter of its financial year and lower average annual costs at its Karowe mine in Botswana, is to pay a 1.5 Canadian cents/share (1.1 US cents) dividend to shareholders.
This is despite recording a 1 US cent loss per share in the third quarter (2015: 12 cents/share), equal to a net loss of $3.8m (2015: net income of $44.2m), which Lucara put down to the cyclical nature of its sales, and a non-cash foreign exchange loss of $7.6m after the Botswana pula gained against the dollar.
However, Lucara's year-to-date net income stood at $59.5m which matches the $58.9m in net income at the same point in the previous financial year.
Of Lucara's two sale sessions in the final quarter of the year, one will be for exceptional stones which could include its fantastically valuable Lesedi la Rona stone which, at 1,109 carats, is the largest rough diamond to have been discovered since the iconic Cullinan diamond which now sits atop the Crown Jewels in the UK.
Lucara said it "… continues to hold the 1,109 carat Lesedi La Rona in inventory as at September 30, 2016 and is currently considering options for its sale".
Attempts to sell Lesedi La Rona in January this year were abandoned after bids for the diamond at a Sotheby's public auction topped out at $61m, short of the undisclosed minimum reserve price. Sotheby's had estimated the diamond would sell for more than $70m.
"The fact that the stone didn't sell, yes, it is disappointing but it doesn't change anything for Lucara as a company," Lamb told Reuters at the time.
The dividend payout will take total payouts to shareholders to beyond 20% of total revenues generated since it began its dividend policy in 2014 which, as of the third quarter, amounted to $185m. The company is currently capitalised at C$1.4bn ($1.1bn), equal to a dividend yield of 1.6%.
"These payments now exceed the total amount of shareholder equity ever raised by the company," said William Lamb, president and CEO of Lucara Diamond. The company "looked forward" to its fourth quarter sales, he added. The 1.5 Canadian cents per share dividend would be paid at close of business on December 2.
The third quarter cash balance was $49.7m (2015: $122.7m) due to the dividend payments for the year to date totalling $136.6m. Lucara's $50m credit facility remains undrawn, it said.
Lucara said the operating cost guidance at Karowe had been decreased for the year to between $25 to $28 per tonne of ore processed compared to a maximum cost of $31/t in previous guidance. The reduction was due to power and general cost savings and an increase in tonnes processed, it said.