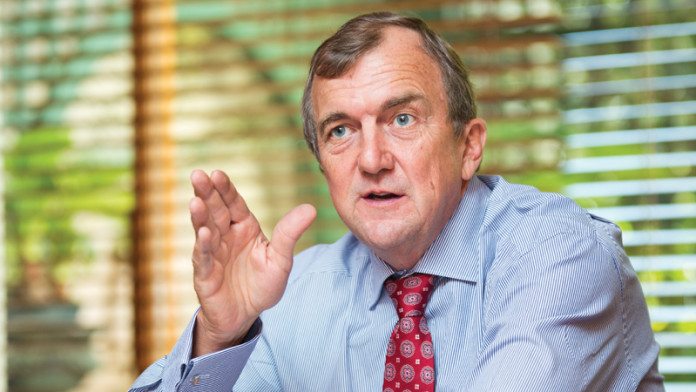 A CONSORTIUM led by Mark Bristow, possibly assisted by a third party, would reinvest in Rockwell Diamonds following a period of "fumigation", the company said today.
Bristow is the chairman of Rockwell, a company listed in Johannesburg that mines for alluvial diamonds on the banks of the Middle Orange River in the Northern Cape province.
Better known as the CEO of Randgold Resources, Bristow propped up Rockwell's finances twice before and in June 2014 bought $1.1m worth of debentures in the firm potentially raising his stake to 9%.
"We have rightsized the business down to its core; we have taken non-core assets and found interested parties for them; and we have received funding commitments for a new Rockwell," said Bristow in an interview.
Rockwell announced it had parted ways with CEO, James Campbell and some of its other senior managers, in September following findings by a special board committee the previous month.
The committee took a dim view of how Rockwell had dealt with its newly acquired Remhoogte project as well as the poor progress of Wouterspan, a new mine.
Tjaart Willemse, who had earlier joined Rockwell's executive, was appointed CEO of the company whilst the company's CFO and resource manager resigned following the board review.
Following Campbell's departure, however, Rockwell was on the back foot defending a claim (successfully) from a contractor – C-Rock Mining (CML) – to have certain equipment returned to it, a so-called 'spoliation order'.
CML has also applied to liquidate Rockwell, but Bristow said it was unlikely to succeed. "It's hard to see that sticking," said Bristow who added that the focus was now on new management.
"I don't think there'll be any more management changes in the senior ranks," said Willemse. "We've done some fumigation, if you can call it that, and those who have remained have really taken ownership," he added.
Commenting on the legal matters, Willemse said: "When you look at the way things happened you get the impression that it was all pre-determined. But we know what we are doing and we've strengthened our case".
Subsequent to management changes, a forensic audit also uncovered possible evidence of improper business dealings involving one of Rockwell's senior managers.
Willemse said this did not extend directly to Campbell. "James left not because of any allegation related to misconduct," said Willemse. "But he did not pick up what was happening."
Wouterspan was back in operation and would be at full tilt in about a week with a view to getting Rockwell to a short-term mining rate of 200,000 cubic metres a month. The company had also identified other organic projects. "Without doubt, we've got a good little business here," said Bristow.
"It's very well structured and its got blue sky, and good management. But the title of my trip [to South Africa] has been 'Execution'," said Bristow.
"The best way to build this company is to do it organically by clearing out some of the fog. We have been slowly chiselling away at the exploration and I think we've highlighted some real potential," said Bristow.
Campbell has since been appointed managing director of Botswana Diamonds, a company listed on London's Alternative Investment Market, which is is joint venture with Alrosa.