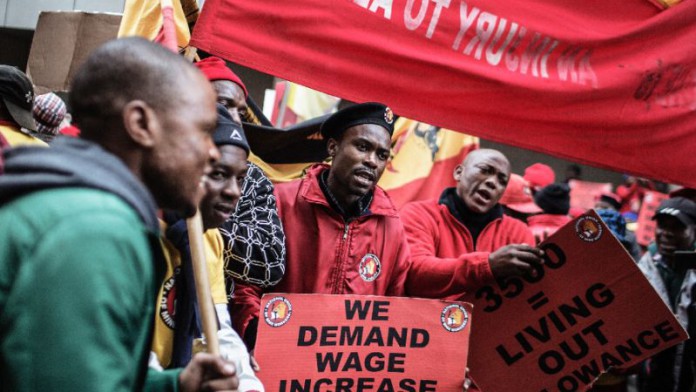 PRODUCTION at Petra Diamonds' Finsch and Kimberley Ekapa Mining Joint Venture operations in South Africa's Northern Cape province has been interrupted by labour disruptions that may be related to wage negotiations.
"Although underground and surface mining have been affected, plant treatment is continuing at near normal capacity at both operations treating surface material and available stockpiles," the company said in a statement.
Speaking on September 18 during the firm's full-year results presentation, Petra CEO Johan Dippenaar described the usually intense nature of wage negotiations as "machinations", adding that while the National Union of Mineworkers (NUM) had accepted an offer at Cullinan "… some machinations are still ahead of us".
"We see the Cullinan deal as a positive sign and we are well down the line negotiating a new deal [elsewhere]," he said of wage talks to renew the previous three-year deal that expired in June. Dippenaar said the company expected to pay between 7.5% to 10% wage increases in a new three-year compact.
Petra today described the labour relations as "volatile". "Petra confirms that since last night it is experiencing labour disruption at its Finsch mine and there is also disruption underway at its Kimberley Ekapa Mining JV operations," it said.
"The company is in ongoing discussions with the NUM in order to resolve the situation and is closely managing the situation to ensure the least possible impact on group production. Petra will update the market as the situation unfolds," it said, adding that normal operations were continuing at Cullinan and Koffiefontein.
Petra needs stable production given that the under-performance of a ramp-up in operations at Cullinan were a major disappointing feature of its 2017 financial results which at four million carats undershot guidance of between 4.4 million to 4.6 million carats. The company needs all its mines to contribute if it is to have a decent stab at cutting net debt which at $555.3m is at near-peak levels following long-standing project investment.
Commenting on the company's prospects, Dippenaar said it was "on track" to meet this year's production guidance of between 4.8 million to 5 million carats, increasing to as much as 5.3 million carats in the 2019 financial year. "Key going forward will be quarterly production updates demonstrating delivery to the latest guidance plan that we hope is sufficiently conservative," said Investec Securities on September 18.
"Given that an agreement has already been reached at Cullinan it seems likely to us that agreements cannot be too far from being concluded at the other operations, despite the disruption," Edward Sterck, an analyst for BMO Capital Markets said in a note today.