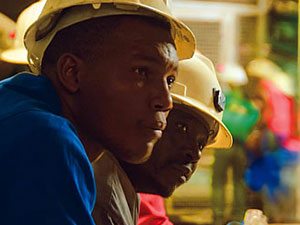 THERE'S been a rise in tensions among South Africa's mining unions, and its labour in general, this month following volatility at the Kimberley mines of Petra Diamonds, shootings at the Lonmin and Impala Platinum (Implats) operations in Rustenburg, and strike activity at Exxaro Resources' Goedgeluk and Leeuwpan mines in the Limpopo and Mpumalanga provinces respectively.
Quite how this is correlated to pressure created by the 21,000 possible job losses at the country's precious metal mines – now likely to be increased 2,500 following Implats' plans to restructure its Rustenburg mine – is hard to gauge. As a broad litmus test, though, it's worrying, especially as Implats has only just begun its restructuring programme while platinum ounces at Sibanye-Stillwater's Rustenburg mines are not guaranteed safe.
According to RMB Morgan Stanley analyst, Christopher Nicholson, labour costs account for 50% of Implats' group cost base, and given that it stripped out about R930m at Rustenburg in its 2016 financial year – as part of a R1.4bn cost-saving drive group-wide – the "easy wins may have already been achieved".
"We would expect the major component of the generalised response to be a reduction in headcount (labour is 50% of the group cost base) accompanied by a range of specific interventions to improve productivity," he said. Another problem for Implats is that two of its profitable mines are under pressure. It may shut Mimosa if the Zimbabwe mine is forced to pay a 15% export levy while Two Rivers is running into low grade, split reef that will negatively affect its economics in the future.
This will increase the need to make the turnaround at Implats' Rustenburg as successful as possible commercially. Cutting jobs, though, is no easy thing. "While in theory retrenchments lead to lower costs thereby improving free cash flow generation capacity of the company, we highlight historically retrenchments have always been difficult in South Africa given the opposition from the government and the union" said Goldman Sachs.
NUM has expressed its horror at the retrenchments, most recently today saying that Implats should be reporting the matter to the minister as required in order to align sections of the Labour Relations Act with the MPRDA. Implats has little choice though. In the estimation of René Hochreiter, an analyst at Noah Capital, as much as 300,000 ounces of Rustenburg mine is loss-making although Nico Muller, CEO of Implats, said in a round of media questioning last week that this was probably too high.
According to other estimates, about 90% of Rustenburg production was free cash flow negative in the 2017 financial year. Muller has pledged to bring Rustenburg to a cash neutral position by 2019.
There is some hope that AngloGold Ashanti may save a portion of the 8,500 jobs at risk at its Kopanang and TauTona mines if it is able to sell the mine – there is an interested bidder prepared to sign a memorandum to secure the deal – but it may only be a portion.
Moving into the ANC's elective conference in December, these are difficult times for South Africa's business environment in mining. Before the conference, Lonmin reports its year-end figures in November and no-one quite knows how much leash it will have with its lenders before attention turns to staff cuts.