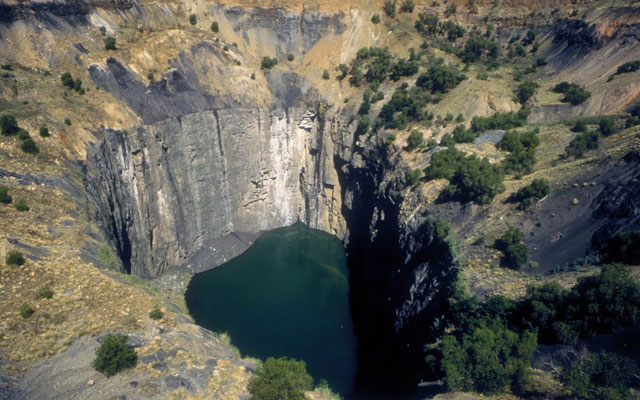 PETRA Diamonds moved to inject a touch more liquidity in the business and free up management time after agreeing to sell its shares in its 75.9%-owned Kimberley Ekapa Diamond Joint venture (KEM) for R300m ($16.8M) in cash.
The disposal, which is captured currently in a heads of agreement with buyer, Ekapa Mining, also removes Petra from funding a cash-leaking asset. The joint venture was partly responsible for Petra booking a $118m impairment in its 2018 financial year. Costs related to the asset will be removed following deal completion, including a sizeable capital expenditure profile of a significant $36.5m.
The KEM JV consists of a joint venture between Petra and its partner Ekapa Mining and incorporates the Kimberley Underground mine, tailings retreatment programmes, and a Central Treatment Plant all located in or around Kimberley in South Africa.
Ekapa Mining, which will assume all of the usual obligations including financial, employee and environmental matters, will pay the R300m consideration in 24 monthly instalments starting in January 2019, the company said. Shares in Petra Diamonds gained 3% by mid-afternoon on the London Stock Exchange to a shade over 55 pence/share.
Following a $178m rights issue unveiled in May – which will see it remove its high cost South African debt portion equal to about $6m in cash flow annually – Petra said it would seek to slim down the portfolio and thereby establish some positive cash flow to the business. According to RBC Capital Markets, the transaction would increase cash flow by $4m and $20m throughout the 2019 and 2020 financial years respectively.
"With the strategic priority to ensure all assets in Petra's portfolio generate returns and contribute positive cash flow to the business, we view the disposal as a positive development," said RBC Capital Markets which has an outperform rating on Petra and a target price of some 65p/share.
It means Petra Diamonds will also be able to focus on operational delivery at Finsch, and especially at its Cullinan mine which is key to the company further improving the health of its balance sheet.
Petra has been on an aggressive growth strategy over the years, largely based on successfully bidding for mines deemed non-core by De Beers. Since 2007, it has bought six mines including the Cullinan, Finsch and Kimberly underground mines, all of which have been given life extensions to beyond 2030 in Petra's hands.
Naturally, this has come at a price. It froze some $60m in capital expenditure over three years in order to focus on paying debt, but by April it was forced to ask lenders for a waiver after breaching debt covenants which the company may be close to breaching again. Then it launched the rights offer.