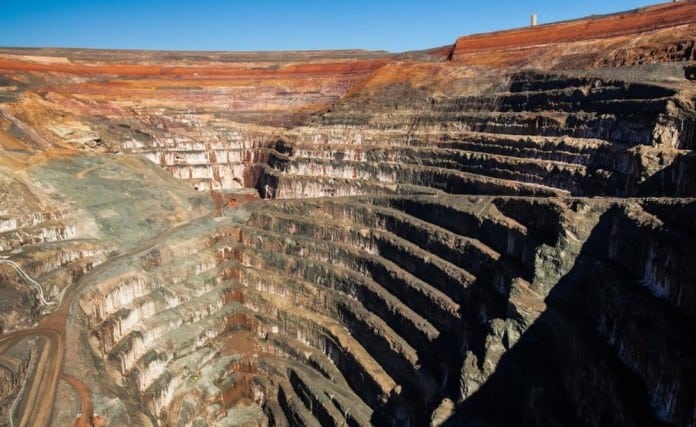 ANGLOGOLD Ashanti has set down plans to transform the performance of its Sunrise Dam mine in Australia which could produce as much as 350,000 ounces annually – a outlook that would result in "a highly cash generative asset," according to Mike Erickson, senior vice president for the group's Australia business.
The mine produced 237,817 oz in AngloGold Ashanti's 2017 financial year at an all-in sustaining cost of $1,203/oz compared to an outlook for this year of 300,000 oz at AISC of between $1,000 to $1,100/oz.
Said Erickson in a presentation today: "If we can fill the mill at four million tonnes a year at three grams per tonne, at a 90% recovery and assuming a conversion rate of 0.75 Australian dollars to the US dollar, this results in highly cash generative mine with no lumps of capital". 
The company will mix mined ore with ore held in stockpiles at the mine in an effort to keep the volume of the mine to mill at sufficiently high levels. It will also mine the remainder of the orebody – known as 'Vogue' – in a similar manner, mixing and matching lower and high grade areas in a way that quarterly production would not be uniform, but profitable.
Sunrise Dam was previously an open pit mine which turned out 600,000 oz/year at peak production. The underground section was commissioned in 2004 which is now the sole source of output. Erickson said there was a current mine life of three years at Sunrise Dam based on current established reserves.
"The challenge is to convert resources to reserve," he said. "The orebody is still open in many directions and there is still tremendous growth coming out of the orebody. We are not concerned it will run out," he added.
"With a combination of innovation, strict capital discipline and incremental investment, we will see a significant step up in production and a reduction in our all-in-sustaining costs over time," said Erickson in an earlier company statement.
Asked why Sunrise Dam – referred to as Sunset Dam when AngloGold closed the open pit – had suddenly received a new lease on life, Erickson replied: "It does seem incredible, I recognise that, but it is not atypical in Australia to drill out enough 'to get going'". He was referring to drilling work on the orebody undertaken by the mine's previous owner which was a junior mining firm.
"Vogue wasn't discovered until relatively late in the piece. It wasn't until 2011 before we were able to get down to depth to be able to really put flesh on the bones of these orezones. There is a reasonably complex geology of steep high grade structures interspersed with shallow structures which repeat themselves. This wasn't recognised."
Srinivasan Venkatakrishnan, CEO of AngloGold, commented that AngloGold had a track-record of renewing orebodies. "You should look at the reserve life of Sunrise Dam ten years ago," he said. Erickson said the "… complexity of the orebody is our friend".