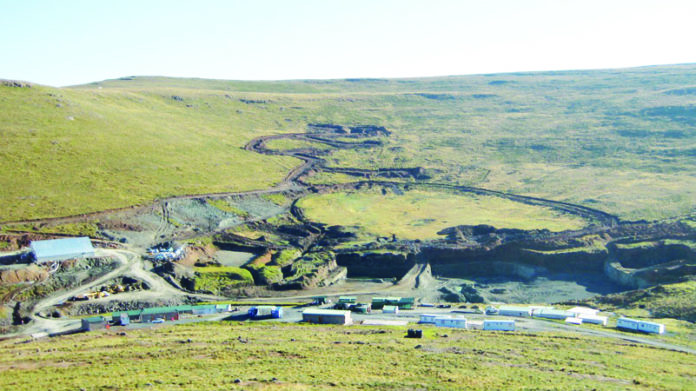 LUCAPA Diamond Company sought to ease the pressure on its balance sheet after agreeing loan terms with an entity owned by non-executive director and shareholder, Ross Stanley, the company said in an announcement today. Stanley joined the Lucapa board in July last year.
Limited company, New Azilian, will lend A$10m (R100.6m) to Mothae, Lucapa's newly commissioned diamond mine in Lesotho, which will effectively replace more expensive debt it owes to Equigold, a private company registered in Singapore.
The loan is a one-year facility offered at an interest rate of 10% with the option to pay up to half of the interest due in Lucapa shares, provided shareholders agree. New Azilian has advanced Lucapa A$6m (R60m) of the loan facility with the balance to be drawn following Lucapa's annual general meeting in May.
The $6m will be used to pre-pay loan instalments to Equigold. In addition to Equigold agreeing to waive early payment fees, the Singaporean company will also convert $1.9m of its loan agreement into Lucapa shares reducing the overall loan of $7.5m (107m) from an initial amount of $15m (R212m), first agreed with Lucapa in 2017.
Referring to a March presentation to the 121 Investment Conference in Hong Kong, Lucapa said it had "foreshadowed" the refinancing. In that presentation, it also said it was looking at ways of preserving cash outflow which included reviewing the exploration of its Brooking (Australia) and Orapa (Botswana) exploration programmes.
In its December quarter report, Lucapa said that owing to the payment of a $4m dividend by Sociedade Mineira Do Lulo, the operating subsidiary for Lucapa's Lulo diamond mine in Angola, and the timing of a R100m loan agreement with the Industrial Development Corporation (IDC) aimed at repaying shareholder loans, the company borrowed $1.2m (R17m) from Stanley, an amount that had to be paid in the first quarter.
A portion of high value diamond sales from Lulo was also delayed in the fourth quarter owing to new marketing regulations applied by the Angola government.
"These new refinancing arrangements will provide Lucapa with added financial strength to continue to build our strategic position in this niche high-value diamond sector," said Stephen Wetherall, MD of Lucapa in a statement.
Mothae was commissioned to produce 1.1 million tonne/year (Mt/y) of diamond-bearing ore via a facility that incorporates diamond recovery technology reducing potential diamond breakage and improving the recovery of unbroken large stones.
The plant will be progressively ramped up to its 1.1Mtpa nameplate capacity following the implementation of a second plant operating shift, Lucapa said in December. The mine can be doubled in throughput in a second phase.