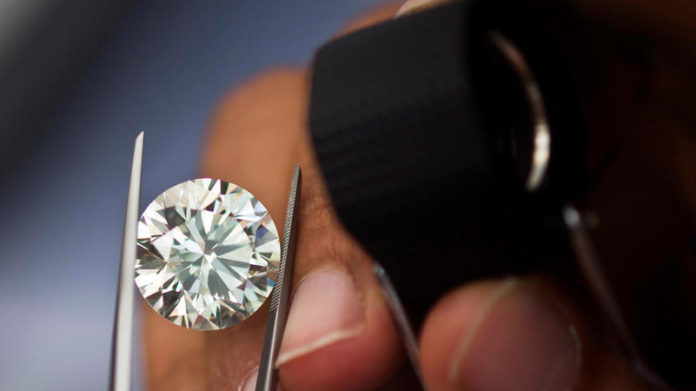 WITH the firecrackers of Diwali, which resounded throughout certain quarters of Johannesburg suburbia on October 27, comes cordite; and hope.
In fact, any phrase ending in the word 'festival' is likely to be met with feelings of hopefulness by the world's diamond sector which has seen average prices plummet 35% below 2014-17 levels in 2019. That's because festivals often mean diamond (and gold jewellery) purchases.
Thanksgiving in the US – the world's largest diamond market and which is still holding its own – follows Diwali and Christmas/New Year follows Thanksgiving. By February, the diamond sector hopes to be clapping itself on its lucent back wondering what all the panic was about anyway.
Data from De Beers last month (October) showed its last cycle of sales totalling $295m. Compared to the previous cycle of sales, about six weeks earlier, this was an advance but year-on-year, sales were nearly $100m less, which is heavy.
The expectation is that the sector is through the worst but diamond equities have been well and truly smacked. Lucara Diamonds, a company listed in Toronto but which operates the Karowe mine in Botswana, was the latest to fall victim sliding about a third in September to its lowest level in five years.
A host of diamond companies operating in South Africa and Lesotho, including the UK-listed triumvirate of Petra Diamonds, GEM Diamonds and Firestone Diamonds have lost roughly 79%, 48% and 87% respectively in the last 12 months.
It makes for pretty horrid reading with the root cause being located in market volatility which has seen consumers reach for gold products over diamonds, sluggish response to lower demand among producers, and the torpor in which the so-called 'midstream' finds itself.
The mid-stream represents the diamond cutters and polishers, known as 'manufacturers' who take rough diamonds packaged for them in 'buckets' by the likes of De Beers from which the store-ready diamonds are produced. As intriguing as this occupation may seem, it is capital inefficient – a situation Eira Thomas hopes will soon be transformed.
Thomas is CEO of Lucara: this is the company that recovered the 1,109 Lesedi La Rona rough diamond in 2015 – the world's largest since the famed Cullinan was recovered back when South Africa was still a 'Union' and motor cars were a rarity.
In addition to diamond mining, Lucara has also introduced blockchain technology into the rough diamond market that finally allows the buyers to buy exactly the pieces they want. The current 'tender' system, long championed by De Beers, presents buyers with "a mix" of diamonds they either accept or reject. Given the paucity of demand, De Beers has been allowing buyers to defer purchases; essentially until they have the money.
And money is too hard to mention for many diamond buyers because they haven't in the past been able to tell their lenders just exactly what diamonds they'll be able to polish. If you can't specify the value of your product, you can't really demand cheap capital.
Also, Lucara's blockchain technology is also charmingly called 'Clara'.
"The beauty of Clara is that buyers can say: 'this is the value of the diamonds; the price and the margin so banks can see if they are over-paying or not. It turns the diamond market on its head," says Thomas. What the tech does is effectively finger-print each rough diamond entered into the system whilst buyers can simultaneously upload their specific polished diamond requirements: cut, size, colour, quality etcetera.
The nature of blockchain also means that diamond provenance is secure. "Clara can create a stable market place," she says, adding that a helpful spin-off is that Lucara might be able to achieve higher average diamond prices on Clara than in the traditional tender-driven market.
Right now, Lucara is 10-months into a five-year plan having taken buyers on the system to 27 from four at start. But scale is important. That's why Thomas is hoping third party diamond supply can be added in additional the rough diamonds Lucara is supplying. "We are continuing to have some good discussions with some good producers, but the key thing is not to go too fast. We need to build supply and demand in a consistent way."