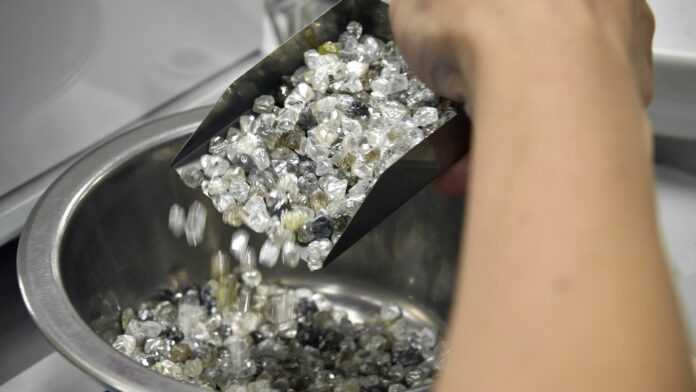 ROUGH diamond sales shrank to $80m for De Beers' penultimate sales cycle for 2023 as the Anglo American company limited supply in response to continued depressed economic conditions.
Rough diamond sales in the previous (eighth) sales cycle totalled $200m while sales in the matching period last year was $454m. In October, Morgan Stanley analysts estimated sales for De Beers of $391m and $395m for its ninth and 10th cycles respectively of its 10-cycle financial year.
"Macro-economic challenges continue to affect the diamond sector," said Al Cook, CEO of De Beers in a statement today. In addition to limiting supply, a voluntary import moratorium implemented by Indian manufacturers earlier this year would see extended Diwali holidays and factory closures, said Cook.
"In recognition of these conditions, De Beers continued with reduced rough diamond availability in the ninth sales cycle of 2023," the diamond miner and marketer said. "De Beers maintained support for its sightholders with full purchase flexibility as the midstream re-establishes an equilibrium between wholesale supply and demand," it added.
In October, De Beers suspended online rough diamond sales and said it would plough $20m into marketing gems ahead of the critical year-end buying season.
Higher rates and weaker growth could put the consumer under pressure resulting in less diamond demand and downward pressure on prices, said Bank of America in a report. It expected slower price recovery amid a near term outlook coloured by mid-stream destocking, the risk of recession in the US and the existential threat posed by lab-grown diamonds.
"Eventually a consolidated supply side and producer discipline puts a floor under prices. V shaped recovery? Remains to be seen," the bank said.
Anglo American, which owns 85% of De Beers, has from time to time been questioned about the presence of diamonds in its portfolio. Investors, said HSBC in a recent report, were wondering whether Anglo was ripe for a restructure.
Petra Diamonds, a UK-listed company, said on November 1 it would defer $65m in capital extension programmes at the Cullinan and Finsch mines with immediate effect as a result of deteriorating diamond market conditions.
Petra's plans were to ramp up output by 1.3 million carats over the next three years but, in September, Miningmx reported market concerns that this new production would co-incide with a structurally weaker diamond market because of weakness in the global economy and rising competition from lab-grown diamonds.