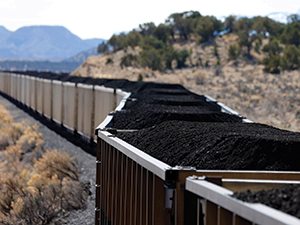 [miningmx.com] – TRANSNET would not adjust a freight agreement with Glencore which currently proposes setting down penalties should the miner fail to supply contractually agreed coal for transport from Mpumalanga province to Richards Bay.
A take-or-pay agreement – a contract that protects the transport company for under- or non-delivery of product – is currently being negotiated between Glencore and Transnet.
Ivan Glasenberg, CEO of Glencore, said earlier this week that his company had not yet signed a take-or-pay agreement with Transnet. He then alluded to concern at Glencore that take-or-pay agreements would prevent Glencore from diverting coal to Eskom.
"The government has got to be concerned," said Glasenberg. "If Eskom needs more tonnage we are locked into RBCT [Richards Bay Coal Terminal].
"We don't want to be in the situation as in Australia where we sign take or pay agreements and then have a better outlet in the local market," he said. In terms of the Transnet agreement, Glencore would have to pay $15/t for non-delivery.
Eskom has said over the years that it is facing a massive supply deficit of coal owing to increased demand and under-investment in new mining projects.
It has, however recently moderated this saying it had been able to contract in significant amounts of coal and that there was only an average of 22 million tonnes year (mtpa) of coal it had not yet identified or secured.
Divyesh Kalan, GM: Group Commercial for Transnet, and a lead negotiator in the take-or-pay discussions with coal miners over the last three years, said Glencore was trying to get Transnet to take up market risk.
"We are not players in the commodity space so we don't take the market risk,' he told Miningmx in an interview. "We don't get the upside when the coal price rises,' he added. "Our business models are different."
Miningmx understands that Glencore is attempting to lower the take-or-pay obligations in its tariff agreement with Transnet such that a lower proportion – 65% of the tariff – is paid in the event of non-delivery instead of the current 95% penalty.
It argues that Transnet does not need to cover much risk because capital on the Richards Bay coal line has long been sunk and it was superfluous for Transnet to try to improve its credit rating because this was guaranteed by the government.
Kalan said, however, that the take-or-pay agreements take into account future expansion of the Richards Bay coal line which is aiming for 78mtpa capacity in the next few years increasing to 81mtpa. Eventually, the line will be able to deliver more than 90mtpa to Richards Bay Coal Terminal.
Transnet said in September last year that it had signed a take-or-pay agreement worth R24bn with BHP Billiton Energy Coal South Africa and that similar agreements with its remaining 28 customers were imminent.
An announcement regarding the conclusion of the other agreements has not yet materialised which was partly owing to a coal producer request that the agreements contain a clause accounting for possible legislative changes that could make mining more expensive.