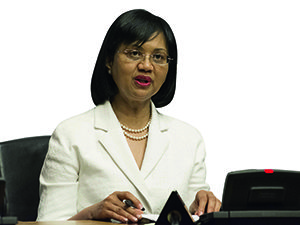 [miningmx.com] – SOUTH Africa energy minister, Tina Joemat-Pettersson, has no idea where the notion the country's nuclear build programme would cost R1-trillion came from.
Joemat-Pettersson and her department today presented details on the five intergovernmental agreements for nuclear plants in South Africa to parliament's oversight committee on energy.
She stressed that the information conveyed to MPs this morning regarded over-arching agreements between Russia, China, the US, South Korea and France and that "no deals have been signed with anybody".
"All these agreements are still subject to the laws of this country. They will be scrutinised and a thorough cost analysis will be done. I don't know where the figure of R1-trillion comes from. Certainly not from us [the energy department]."
Opposition party Democratic Alliance MP, Gordon Mackay, reminded Joemat-Pettersson that her predecessor Dipuo Peters had admitted to the Mail & Guardian, a South African newspaper, that a tender proposal for 9600MW of nuclear power could be worth at least R1-trillion.
But Joemat-Pettersson just shook her head and said she could not run her department based on media reports. "If I have to respond to what the media says I won't wake up in the morning."
The minister said South Africa had to diversify each energy supply with renewable energy, coal-fired power stations as well as nuclear energy. She questioned why the cost of nuclear energy was subjected to such close scrutiny.
"Renewables are not cheap either. The IPP programme (Independent Power Producer) programme costs R200bn. Why don't you question about the hundreds of billions of rand invested in that?"
Tina Joemat-Pettersson undertook to disclose the affordability study and funding models one they've been conducted by a joint task team.
"Please appreciate the timing of releasing the documents when we're in a procurement phase. I'm prepared to give members information, but there are commercial sensitivities."