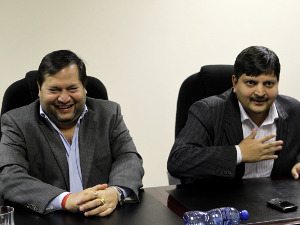 [miningmx.com] – THE controversial Gupta family have bought Optimum Coal Mine in South Africa's Mpumalanga province from Optimum Holdings for R2.15bn saving 500 jobs and securing 5.5 million tonnes/year (mtpa) of coal supply to Eskom's Hendrina power station.
Optimum Coal Mine was placed into business rescue proceedings in August after Eskom and Optimum Holdings, in which Glencore has a 66% stake, failed to renegotiate a coal sales agreement.
Glencore argued that it could not drive a profit from selling coal to Eskom at the agreed sales price of R150/t and proposed doubling it – a level that would still result in loss-making from the mine – but which Eskom said it could not stomach anyway.
Eskom subsequently announced it would charge a R2bn penalty against Optimum Holdings for allegedly supply below specification coal to Hendrina for two years. This matter is still unresolved with Eskom CEO, Brian Molefe, adamant it would proceed.
The agreement today sees Gupta family business Tegeta Exploration and Resources purchase all the assets of Optimum Holdings which also includes Koornfontein Mines as well as the Optimum mine.
Tegeta was formed in 2006 in order to identify mining assets, especially coal, for Oakbay Investments Group, a Johannesburg-listed business through which the Gupta family own certain asses such as Shiva Uranium, a company redeveloping Dominion Reefs uranium project.
Tegeta already supplies Eskom with about 2.4mtpa of coal and holds two mining rights for coal – Brakfontein and Brakfontein Extension – in the Delmas area and prospecting rights in Mpumalanga, Free State, KwaZulu-Natal and Limpopo provinces directly or through associates.
In terms of the deal, Optimum Holdings will use the R2.15bn consideration to part repay some R2.55bn in bank debt. Glencore has agreed to advance R400m to settle the balance of the debt and allow the sale to Tegeta to proceed.
Optimum Coal Mine has been something of a black hole for Glencore. The group said earlier this year it had pumped R900m into Optimum Mine in the last year alone to keep it liquid.
Tegeta will assume responsibility for financing the operations of Optimum Mine with effect from 1 January 2016, it said.
"We believe this transaction provides the most optimal outcome for stakeholders and importantly preserves the livelihoods of thousands of the mines employees and dependants as well as the uninterrupted coal supply to two of Eskom's thirteen power stations," said the business rescue practitioners in a statement.