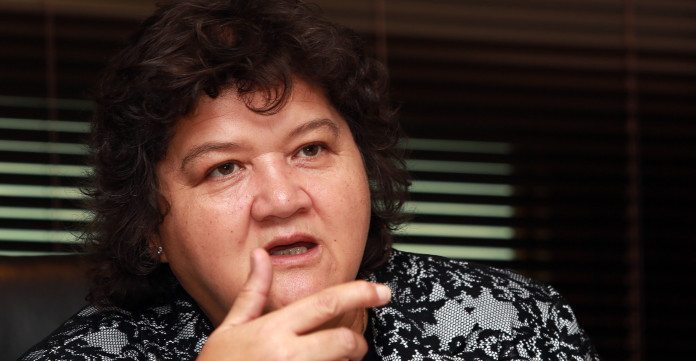 THE price of coal had dropped to such an extent last year that South African coal producers preferred to sell it locally than export it, said public enterprises minister Lynne Brown.
Brown was speaking with Brian Molefe, CEO at Eskom, at a media briefing at South Africa's parliament today in which they also commented on progress made with the power utility's build programme.
They were proud of the fact that the third unit of Eskom's Ingula Storage Pump Scheme had been successfully synchronised to the electricity grid from March 6.
The entire build project should be completed by the end of December – a year ahead of time, which will add an extra 333MW of electricity capacity. Brown acknowledged that the rest of Eskom's build programme is important for economic growth and to attract further investments.
She said that Eskom now faced different challenges, such as the fact that some of its cost plus coal contract agreements were coming to an end. "And we'll have to ask ourselves, 'What then?,'" said Brown on how Eskom would procure coal on a long-term basis in the future.
Cost plus coal contracts, many of which were signed 10 or twenty years ago, saw Eskom pay for the capital and operational cost of the mine which would be operated by a mining company which owned the mining lease. Each year, Eskom would budget on buying coal at a certain percentage above the cost of production.
This arrangement has been unravelling recently, especially since Molefe took the helm at Eskom. He has steadfastly refused to renew these contracts and has kicked against the notion that Eskom should pay the capital cost on new mines saying it is the coal in which Eskom is interested, not ownership of the mine.
Eskom and one of its coal suppliers, Exxaro Resources, were at loggerheads last week over an interpretation of their coal supply agreement. The power utility had cancelled the Exxaro contract due to the high cost of coal.
Exxaro was the second coal mine to be shown the door after Molefe's resolve to keep coal costs down. Glencore's Optimum Coal Colliery went into business rescue last year as it sought a coal sales deal that exceeded the Eskom contract price.
Asked about a possible 'coal cliff' in which the utility might face a deficit in coal supply for its power stations, Molefe said he hadn't encountered such a thing since he joined Eskom a year ago. He reiterated that South Africa has 200 years of coal underground.
"I'm convinced the market will make sure it gets mined. The attempt to make coal not available – that is called the coal cliff – it's a mechanism to make Eskom pay much more for coal. We have to buy coal at the right price. We shouldn't own the bakery; we're interested in the bread."
Brown was still resolute that South Africa would require a third coal-fired power station (the so-called Coal 3) in addition to Medupi and Kusile, although it would operate on a much smaller scale.
"I'm of the view that Coal 3 should be built as a public-private-partership, because I feel quite strongly about the fact that basic services should be in the hands of the state," Brown said. She admitted though that it would be "naïve and arrogant to think that the state could build Coal 3 alone. We need to share the burden."
Molefe was quite confident though that Eskom wouldn't need much capital from the World Bank for Coal 3. "We want little from the World Bank, because of their conditionality and so on and they have strange developmental agendas."
Brown pointed out though that the particulars of Coal 3 still lie with the Department of Energy, which is the ultimate decision-maker.
As for the nuclear build programme, Molefe said Eskom's role would in all likelihood be that of an 'owner operator', as is the case with Koeberg. The Department of Energy is the procuring agent for the project, while Eskom is the designated operator for any future nuclear stations, Business Day reported earlier.