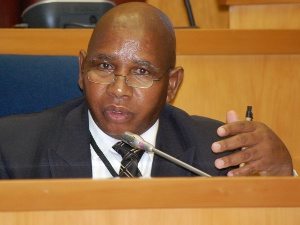 [miningmx.com] – THE bad blood between Zululand Anthracite Colliery (ZAC) and its black economic empowerment partner, Maweni Mining Consortium (MMC), over a community trust fund and employment trust has worsened.
Earlier this week, ZAC met with members of the parliamentary portfolio committee on mineral resources to discuss the anthracite mine's level of compliance with the Mining Charter among other things.
Last year, ZAC was found guilty of contravening regulations stipulated by the Mineral and Petroleum Resources Development Act (MPRDA) and for non-compliance with health, safety and environmental regulations, and was temporarily closed in June. The mine has also faced allegations that workers had been deprived of their dividends.
However, today's meeting was almost derailed when MMC – the mining company's BEE partners – told MPs they had not been invited by their "senior partner' (ZAC) to attend the meeting. MMC, which owns 26% of ZAC, was represented by CEO Fred Arendse and chairperson, Glehn Michabalela.
ZAC board chairperson, Eric Finlayson, responded that he would attempt to clear up any misconceptions during his presentation. According to him, the planned change in mine ownership created anxiety among the workforce and members of the community.
Forbes & Manhattan Coal was supposed to buy Rio Tinto's majority stake (74%) in ZAC in September last year, but the deal went sour. "This has now been the case in the last 18 months as Rio Tinto attempted to divest its interests in Riversdale Holdings (which owns 74% of ZAC),' Finlayson said.
"Productivity at the mine is impacted. There is potential for greater industrial unrest and the potential of safety performance at the mine.'
He also pointed out that MMC's original share in ZAC was valued at R24m, but has since increased six-fold to R155m as ZAC was able to extend the lifespan of operations at the mine to 2027.
The mistrust between ZAC and MMC, according to him, was due to poor communication between MMC's management and its shareholders. Finlayson said MMC failed to tell its shareholders (workers and the surrounding community) the retention of dividends was for the repayment of a R2,9m loan and to fund capital projects at the mine. "In the absence of this information to MMC speculation ran rife about the misappropriation of dividends,' he said.
In turn, Michabalela, said MMC was threatened with disciplinary action should they attend today's parliamentary meeting. "But we took the resolution to come nevertheless.'
According to him, MMC has never seen any benefit of being a BEE partner, neither has the community reaped any benefits. "We're nothing but a front,' he said. "We don't participate in any decision-making processes and we don't get dividends.'
But Finlayson hit back, saying Michabalela's version only represents one or two stakeholders (in MMC). "What you'll be hearing are not the views of 50% of the shareholders.'
Fred Gona (ANC), committee chairperson asked a delegate of the Department of Mineral Resources to weigh in on the matter.
Rebone Mkambule, chief director of Eastern Regions, who attended the meeting, said the department was aware that there were problems with BEE participation in ZAC. "But we had to allow ZAC to operate as they are a significant employee in the area.'
ZAC's chief operating officer Bruce Beath told delegates the mining company, which operates near Richards Bay in northern KwaZulu-Natal, employs 1,242 people in a region which suffers high levels of unemployment.