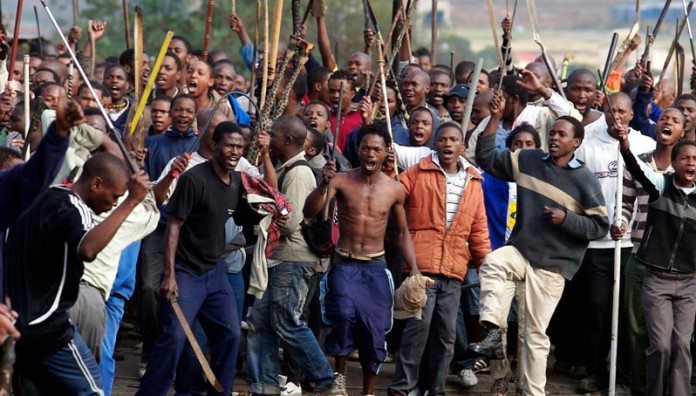 GLENCORE rejected claims by the Association of Mineworkers & Construction Union (AMCU) that the mining group ordered security officials open fire on its members engaged in strike protest at the 3.2 million tonne a year Wonderfontein coal mine in South Africa's Mpumalanga province.
AMCU issued a statement earlier today in which it said some 20 workers had been shot and wounded. It said it was "dismayed and appalled", adding that injured workers were stable in hospital.
Said Glencore: "Glencore and Umsimbithi Mining categorically reject allegations from AMCU that the companies instructed security officials to open fire at striking workers at Wonderfontein Mine this morning.
"These allegations are entirely incorrect".
Umsimbithi Mining is a subsidiary company of Glencore. The strike at the mine, over wage demands, is due to enter its fourth week.
Glencore said security officials had intervened in a confrontation between striking workers and a farmer on April 4 after the farmer fell under attack after attempting to access his property from a road occupied by protesters.
"Glencore and Umsimbithi respect the right of their employees to strike but are very concerned regarding AMCU and its members' willingness to break the law, ignore the court interdict and escalate their violent actions against the mine, employees, community members and the general public passing by the area," said Glencore.
Glencore secured the court interdict against the strike last week after protests became violent, said the group's spokesman, Gugulethu Maqetuka.
AMCU said its strike was legal and the area where members were demonstrating was a protected area. "Despite this, our members were accused of bridging the picketing rules by occupying and demonstrating at an illegal area," said AMCU's regional secretary John 'Vuvuzela' Sibiya.
Glencore said in an earlier statement to Reuters today that after a peaceful start, the strike became violent. "While the first week of the strike was fairly peaceful, the strike has turned increasingly violent in the past two weeks, resulting in the obtaining of a court order against AMCU and its members to desist from acts of violence at the mine," said Glencore.
About two-and-a-half years ago, police opened fire on striking workers at Lonmin's Marikana platinum mine resulting in the death of 34 people with a further 78 wounded.
Sibiya told media last week that efforts to negotiate an agreement had been unsuccessful. "We have tired to negotiate with the mine but they are refusing to take any of our offers," he said. Workers want their basic monthly salary doubled to R8,000 from R4,000 ($544 to $272).